Our Technology
Interactive & flexible
technology
Easily access GX1 from any device and across platforms.
Quickly hire and onboard new employees within 24 hours.
In-app messaging allows for consistent communication.
With everything at their fingertips, your employees can do more and worry less.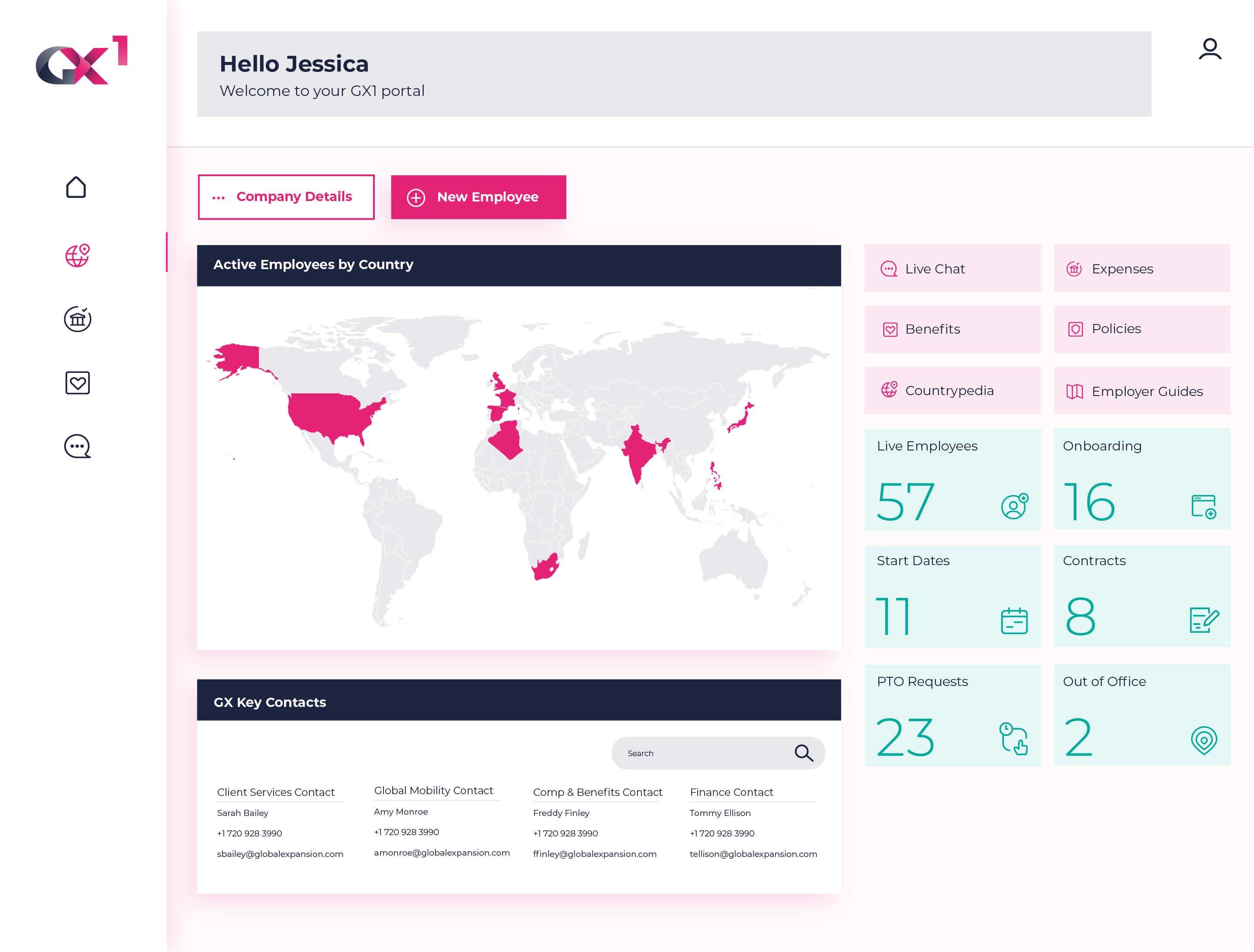 We bring simplicity to the complexity of hiring staff around the world
Provides employees flexible policy options in addition to the core benefits of the company.
Connects with your HRIS, payroll systems, and emails for easy access & automation.
Calculates and reports on compensation for any number of employees with a few clicks.
Online Expense Management
Employees can enter expense reports online for routing, approvals, and payment.
Online Personal Time Off (PTO)
Simple, online employee time-off tracking and recording that is tailored to your organization.
Contract Lifecycle Management (CLM)
Manage contracts from initiation through the renewal.
Our Commitment
Upholding the Highest Standards of Data Protection
At Global Expansion, we hold data security and privacy to the highest standards and invest continuously in our infrastructure and processes to provide you with the most secure solutions in the Industry.
To this end, Global Expansion is proud to be one of the select few global employment providers that holds the ISO 27001:2013 certification, the international standard for data security, while also maintaining the compliance standards set by the GDPR.
Avoid the hassle of heavy fines, legal fees, reputational damage, and business interruptions that come from a data breach.
Enjoy a stress-free experience, knowing that your data is protected by a company that goes above and beyond to meet the relevant laws, regulations, and requirements of information security.
Gain the edge, of offering the strongest level of data protection available.
Our Technology is Award Winning
EXPATRIATE MANAGEMENT & MOBILITY AWARDS
EXPATRIATE MANAGEMENT & MOBILITY AWARDS
Our experienced professionals are ready to discuss an optimal employment solution for your business - right now.