Employer of Record: A Guide to Global Expansion
Employer of Record: A Guide to Global Expansion
Published On: January 30, 2023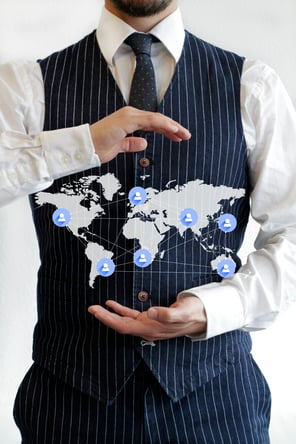 Global expansion can present a number of challenges, such as entering unknown markets and achieving compliance. In fact, most companies actually lose money on global expansion, with only 40% returning more than 3% profit. However, businesses can significantly mitigate these risks by working with an Employer of Record (EOR). By utilizing an EOR, businesses rely on them to provide global payroll, benefits, and compliance in the countries they want to hire in.
Expanding into new markets will yield more ROI for your business rather than relying solely on domestic markets. For example, tech giant Apple increased its worldwide revenue from $274.52 billion in 2020 to $394.33 billion in 2022.
Despite the cultural and regulatory challenges international expansion imparts, it can give you a competitive edge over competitors and diversify your revenue channels. An Employer of Record makes hiring, managing, and paying international employees easier while seamlessly expanding into new markets. Partnering with an experienced Employer of Record helps even the strongest global expansion strategies find success overseas.
What is Global Expansion?
Global expansion is a strategy businesses use to increase their outreach from domestic to international markets, establishing new revenue streams and hiring international employees. However, it's important to understand the markets you enter; how you introduce your product or service to a new market will define it. That's one of the reasons hiring local talent is key to a successful global expansion. And, of course, there will be less competition in untapped markets.
Global expansion also unlocks opportunities for alliances with established international companies and allows you to leverage government incentives. It also gives you deeper insights into the global market.
Common Methods of Global Expansion
Before you set up your business abroad, it's vitally important to create a strategy to identify target markets, consider cultural associations, and determine goals to align with your overseas presence.
Some common global expansion methods successful enterprises have used for international growth include the following:
Setting up an Overseas Entity
Most businesses set up an overseas entity like a subsidiary, a branch, or a representative office. However, the head office or offices remain in the home country. A subsidiary is a separate legal entity preventing the parent company from owing any legal liability in the host country.
While a branch office is an extension of the parent company, with its taxes and administration handled according to the home country, it's also subject to legal liability. A representative office has a minimal presence in the host country with the primary aim of gaining a foothold and researching the new market. It is not involved in sales or contracts.
Working With a Franchisee
Many multinational companies like Coca-Cola and KFC have entered new markets by distributing their services to franchisees in other countries. The franchisees pay a royalty fee for using the franchisor's brand name or trademark.
It's one of the fastest ways to enter a new market and requires minimal investment. However, the franchisor is liable for the legal and contractual issues of the franchisee.
Working With Established Companies
Partnering with well-established local companies is another way businesses venture into global markets. Joint partnerships formalize a new company in the market with agreements ranging from co-marketing to manufacturing for the supply chain.
This method benefits both parties as they share the investment, and less risk is involved. Each joint venture partner shares legal and cost risks, profits, and losses for that venture.
However, the venture is separate from the partners' other companies.
Partnering with a Global EOR
A more advantageous way to enter a new market is by partnering with a Global Employer of Record (EOR). Not only does an EOR save you time and money, but it can also protect you against legal risks, like misclassified independent contractors. In addition, it can handle hiring talent and executing payroll, tax, and compliance obligations in the host country.
What is a Global Employer of Record?
A Global Employer of Record (EOR) is a company that facilitates global expansion for a business, allowing it to hire international talent without the need to set up an entity, acting as the legal entity on paper. An EOR also handles immigration details like visas, work permits, and tax payments on behalf of the business under its own Taxpayer ID.
With so many benefits, it's not surprising that the global EOR market is growing—from $4299.1 million in 2021 to $6604.4 million by 2028, increasing at a 6.8% CAGR.
Using a Global EOR for Global Expansion
Some of the benefits businesses can expect by utilizing global EOR services for expansion include:
No Need to Set Up a Costly Entity
Global business expansion is about moving fast so you can capitalize on untapped markets. Global EOR services eliminate the need to set up a branch or subsidiary in a new market. This saves both time and costs associated with setting up an entity overseas. Secondly, a global EOR helps onboard new talent in as few as 24 hours, making your business operational much faster than the traditional route.
An EOR allows you to focus on your business's growth rather than tackling the hiring or entity setup process.
Navigating Legal Compliance
Labor, immigration, and remote work laws differ in each country and are also subject to change. Therefore, they can create hurdles in your business expansion plans. Moreover, failure to adhere to these regulations can threaten your firm's reputation and result in sanctions or hefty legal penalties. A global EOR will handle compliance with local labor laws and regulations, mitigating legal risks.
Mitigating Employment Liabilities
Hiring staff through global EOR services mitigates employee liabilities, such as terminations and misclassification. An EOR's legal team of experts help keep legal issues at bay.
Overseeing Payroll Obligations
Payroll obligations and statutory contributions vary between countries and are often complicated, time-consuming tasks handled by an in-house HR team. Anything from foreign currency exchange issues to tax filing delays can incur a penalty.
Global EOR services handle payroll requirements and all things related to employee compensation, such as voluntary benefits, onboarding, offboarding, and expense reimbursements. They can also help register your staff with the local authorities and arrange work permits and visas.
Why Use Global Expansion's EOR Services?
When expanding into international markets, saving time and money is crucial—and choosing a trustworthy and experienced global EOR can help your business expand successfully.
Global Expansion's EOR services will take care of onboarding employees, managing their benefits, overseeing payroll, and support in 214 countries and territories.
Ready to get started? Speak with an EOR expert to learn how simple expanding overseas can—and should—be.
Related Articles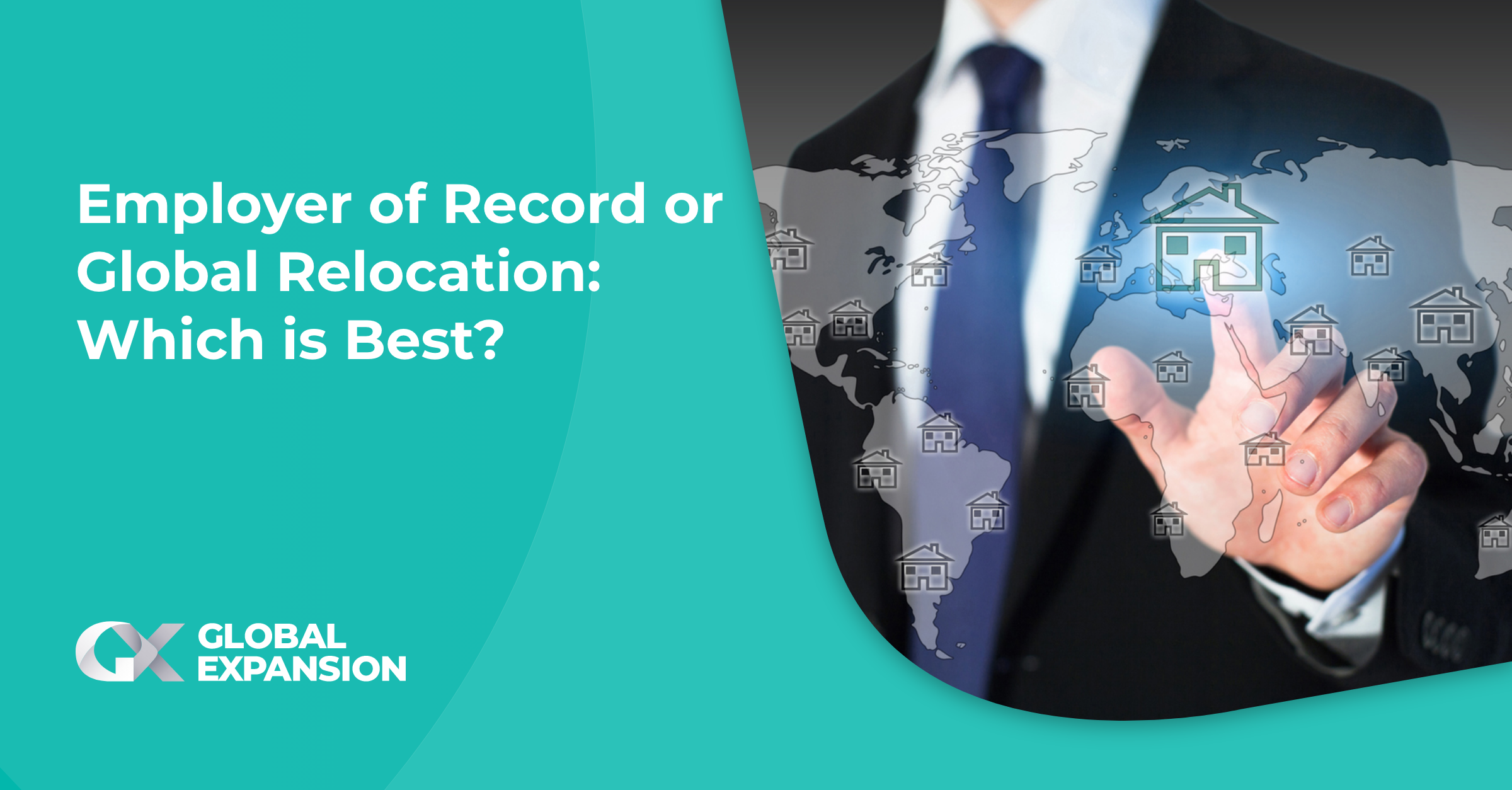 Published on January 30, 2023 , updated on June 9, 2023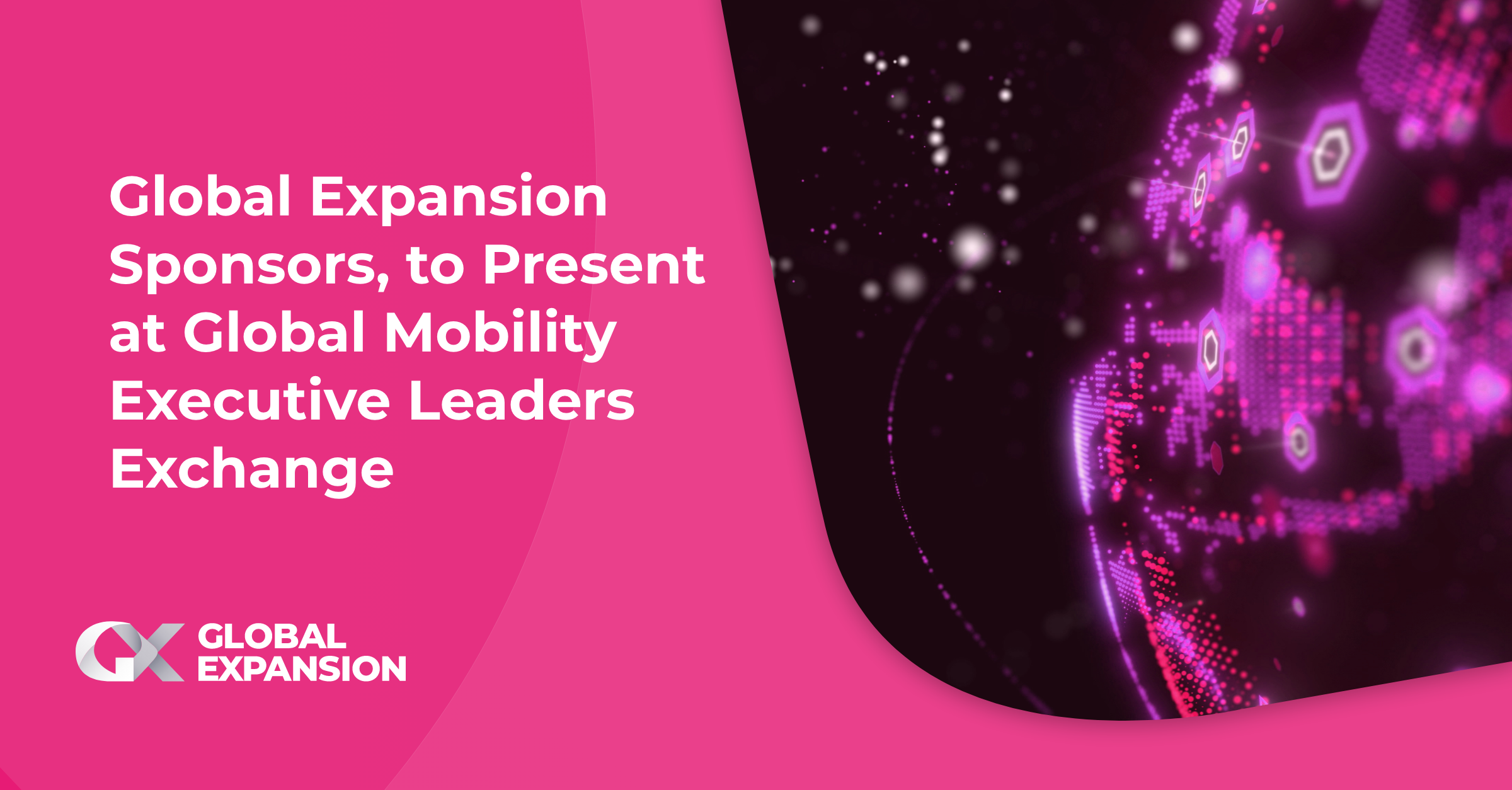 Published on January 30, 2023 , updated on June 9, 2023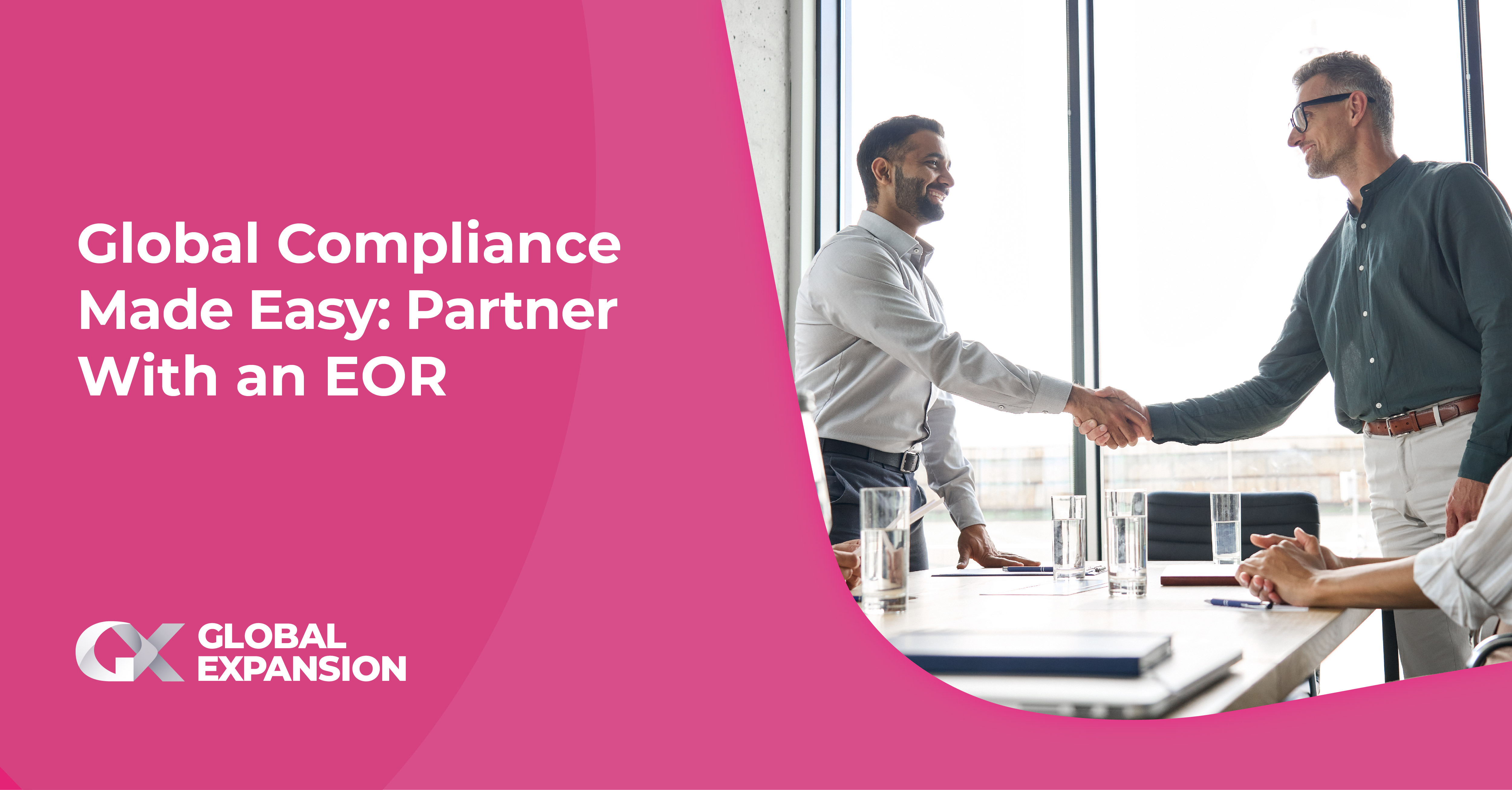 Published on January 30, 2023 , updated on June 9, 2023
Receive the latest GX blog posts and updates in your inbox.