Go Global: Employer of Record India
India's fast-growing economy is now the sixth largest in the world. With a workforce of over 507 million, foreign employers have no problem finding eligible candidates in India to build out their remote teams.
There are many booming industries in the country, including pharmaceuticals, fast-moving consumer goods (FMCG), financial services, and chemicals. The tech sector is also set to reach $500 billion by 2030.
Around 265 million Indians speak English, making India one of the largest English-speaking populations worldwide. Easy cross-border communication, combined with comparatively low wages, makes India a very attractive target for organizations of all sectors and sizes.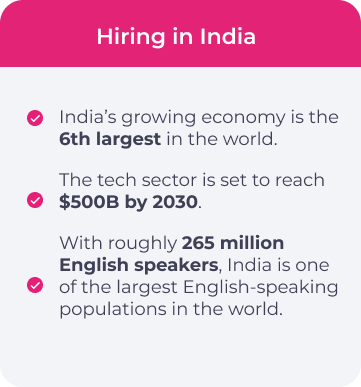 Hiring in India
Can a U.S.-based company hire in India? The short answer is, yes. However, it's important to understand each way businesses can hire Indian talent to make an informed decision. Various factors typically include pricing, time, and how many employees a business wants to hire.
Legal Entity
Companies planning to hire in India can choose to set up a legal entity that allows them to establish a presence in-country, and develop large teams.
While setting up an entity in India may bring benefits for companies with huge headcounts and intentions of a long-term presence, the downsides generally outweigh the upsides for most organizations. For example, it can be a months-long process that costs tens (or hundreds) of thousands of dollars. Companies must also consider the multiple risks they'll face.
Businesses must comply with complex Indian employment legislation, ensure they don't misclassify contractors and employees, and make the correct payroll contributions each month. Organizations also risk triggering Permanent Establishment (PE), meaning they would be liable for corporate tax in India. Failing to comply with laws or making even simple mistakes can result in fines and disastrous legal complications down the line.
Contractors
An alternative to setting up a legal entity in India is hiring and paying contractors in India. Typically, if a business hires a contractor, it'll be for specific short-term projects or services. The contractor will provide services as a self-employed individual, which can help save companies money on payroll and HR administration.
However, contractors can be a risky choice, as it's easy to misclassify them. If a business is unfamiliar with India's employment laws, contractors may be considered employees of the business, which can lead to legal fines and reputational damage. Ultimately, it's important to understand the needs and goals of a business prior to hiring a contractor.
Employer of Record (EOR)
Due to the complexities, costs, and risks of setting up an entity—and the possible misclassification errors of hiring contractors—many companies prefer to work with an Employer of Record instead. This simplifies cross-border hiring, eliminating the need to set up an entity. An Employer of Record in India legally employs workers on paper, managing compliance, and shouldering any risks. Organizations that partner with an EOR maintains full employee management.
How to Choose the Right Employer of Record
Organizations should ensure the Employer of Record they're considering partnering with has extensive experience operating in India before hiring them; India has complicated employment laws that require in-depth regulatory knowledge to help navigate hiring and labor legislation.
Organizations would be wise to choose a partner that offers a comprehensive range of additional HR services. Streamlining and centralizing payroll, compliance, onboarding, and employee and contractor management all from one platform will save immeasurable time, money, and hassle.
Employers should also fully understand the EOR's pricing structure before finalizing the contract, as some Employers of Record have hidden fees. It's best to choose one with a straightforward, fixed fee, and to watch out for EORs with complex and/or convoluted pricing structures.

Frequently Asked Questions (FAQ)
What risks are involved with employing contractors in India?
The principal risk of hiring a contractor in India is worker misclassification. In India, employees and contractors are legally classified differently based on where and how they carry out their work. They also trigger different employer responsibilities. For example, employers must provide certain employee benefits and tax contributions for employees that contractors are not eligible for.
It's not always easy to define when a contractor's duties become an employee's. However, misclassification can have serious consequences, even if done by mistake. It can lead to legal implications, fines, or retroactively paying unpaid benefits and taxes.
What is the minimum wage in India?
India has no statutory national minimum wage. However, some states and industries, like agriculture, do set their own minimum wages. Salaries range widely across the country depending on the sector, job role, and employer.
However, the wages typically range from INR 14,000 to INR 31,900 per month.
In the capital, New Delhi, the state minimum wage is INR 16,506 per month for unskilled workers, INR 18,187 for semi-skilled, and INR 20,019 for skilled workers.
Do businesses have to secure visas to employ an Indian worker?
If a business plans on hiring an Indian worker remotely, and they carry out their duties from India, the business does not need to secure any visas. To ensure businesses follow correct HR protocols in India, setting up a legal entity in the country or working with an Employer of Record partner are the best options.
Can a business hire an Indian worker directly?
Foreign employers considering hiring a worker remotely from India must comply with certain regulations. If an organization hires them as an employee, it may need to own a legal entity in the country, or instead partner with an EOR to:
Provide employee benefits
Comply with laws
Make necessary tax contributions
If hired as a contractor, the business may not need to make these provisions. However, hiring managers should be careful of misclassifying employees as contractors. Doing so could lead to disastrous legal and financial troubles, or even triggering Permanent Establishment, which could make the organization liable for paying corporate tax.
What is the hiring process in India?
While there is no official hiring process in India, typically Indian employers will use the following stages:
Advertising a job
Receiving and screening applications
Inviting candidates for a job interview
Onboarding the successful applicant
Work with Global Expansion to seamlessly hire in India
Global Expansion's Employer of Record services in India offers everything you need to quickly build a team in India while saving time and money by bypassing entity establishment. Rest easy knowing we'll align all hiring, onboarding, and payroll considerations with national and jurisdiction-specific employment laws.
By partnering with Global Expansion, you can hire in India with confidence, knowing that you have a trusted partner to help you navigate complex Indian employment and tax laws. Get in touch with an expert today to get started.
Related Articles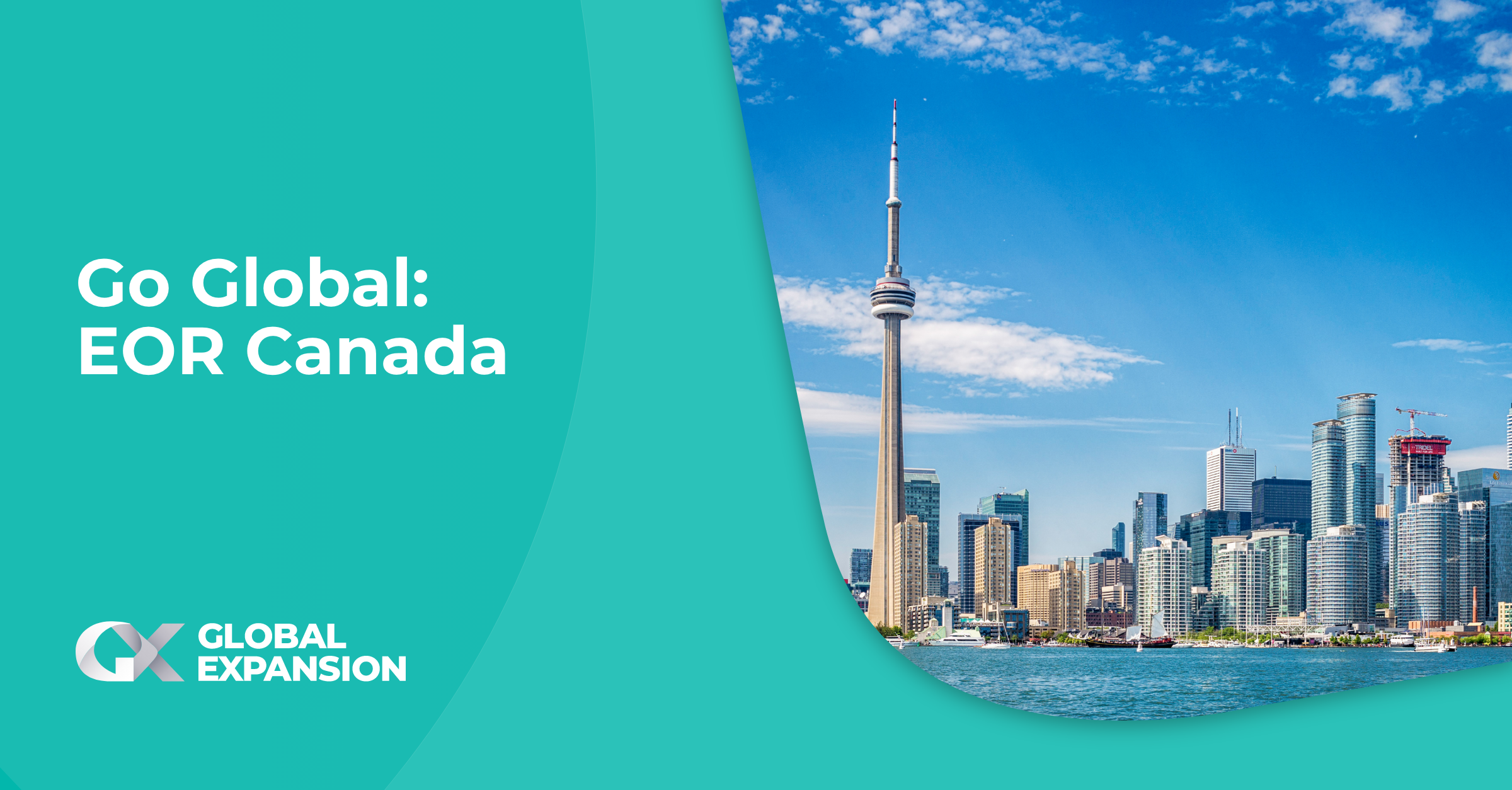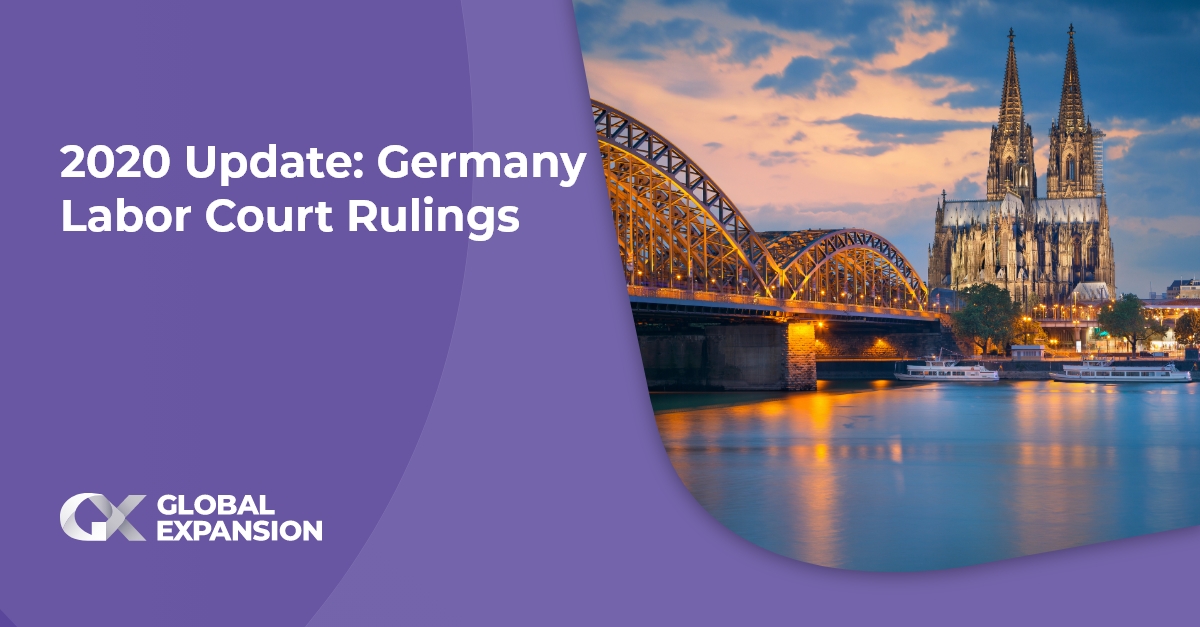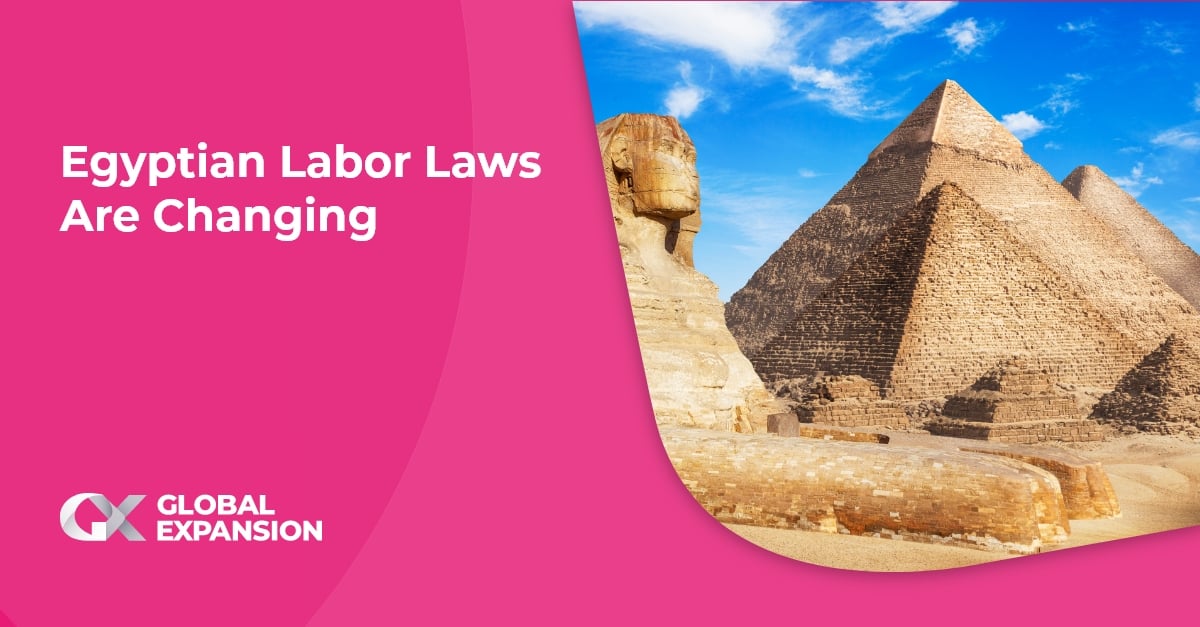 Receive the latest GX blog posts and updates in your inbox.