How to Choose the Best Employer of Record (EOR): 6 Questions to Ask
How to Choose the Best Employer of Record (EOR): 6 Questions to Ask
Published On: November 11, 2022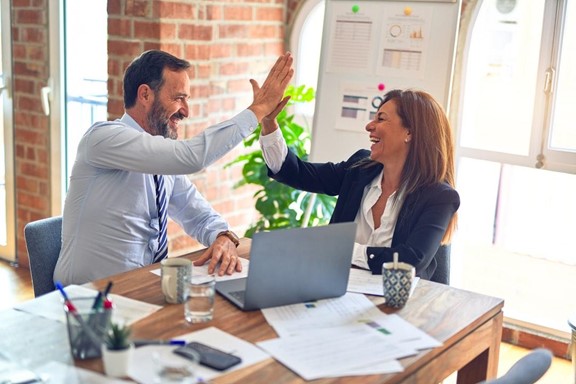 The rise in popularity of remote work presents a tremendous opportunity for expanding companies to recruit and hire talented, motivated candidates in almost any country in the world. While global hiring has its rewards, companies hiring international employees have some challenges to overcome.
Hiring employees in countries that may be thousands of miles away from company headquarters, in places with vastly different laws, cultures, and customs can be difficult and overwhelming. Companies may be required to establish a local entity, which can be a potentially lengthy and expensive process.
In addition, if a company is considering a permanent establishment, it may have to pay corporate tax. If laws are broken, organizations can face disastrous financial consequences, be barred from doing business in the country ever again, and in some cases and countries, even be criminally charged with fraud if employee misclassification occurs. There are solutions, however.
Employers looking to expand internationally and hire their next team member in a foreign country can partner with an international human resources and payroll provider offering Employer of Record (EOR) services, such as Global Expansion. This helps employers ensure they are compliant with tax law, employment law, country-specific regulations, and legal requirements, especially when laws change.
What is an Employer of Record (EOR)?
In countries where a local entity is required, an EOR already owns a local entity and can employ a client's workers without requiring an employer to set up a new entity. An Employer of Record makes it easy for globally expanding companies to hire remote international employees while staying compliant with the law. The EOR can hire and onboard new employees, as well as process payroll, pay payroll taxes, and provide statutory benefits to employees.
Employer of Record Services
Can draft legally compliant employment contracts for employees.
Owns a local legal entity, which is required in many countries for foreign companies to be able to hire employees.
Eliminates some of the risks of international employment by ensuring compliance and avoiding burdens that come with permanent establishment status.
Hires and onboards new team members for companies and can act as the HR department.
Can put together a world-class comprehensive benefits package for globally dispersed teams and make sure statutory benefits are provided according to local minimum requirements.
Makes sure all hours of employees are tracked and payroll is processed accurately. All employees are paid on time in their local currency.
Processes payroll taxes, including income tax withholding and contributions toward government programs such as social security, pensions, and insurance (e.g. unemployment insurance).
EOR services do not take over the operations of a client company. Aside from the HR tasks an Employer of Record company handles, the rest of the operations remain under the control of the employer.
How Can an Employer of Record Help Companies?
An Employer of Record company can help growing organizations in several ways:
Some of the risks of hiring internationally are lessened for client companies that use an EOR.
The EOR provider is responsible for maintaining compliance and will make sure any regulatory issues with the local government and labor inspectors are taken care of and that all labor laws are being followed.
The risk of permanent establishment is less with the Employer of Record because the client company does not own a local entity and does not technically have a presence in the country. EORs own a local entity and become the legal employer on paper.
Companies can easily hire and seamlessly onboard employees around the world.
Payroll is processed, taxes paid, and benefits administered, all while staying compliant.
Without help, it can be a hassle to accurately process payroll and make timely tax payments and social security contributions on behalf of employees to foreign governments. An EOR ensures accurate payroll and tax payments.
If a company has its own local legal entity, an international Professional Employer Organization (PEO) can take care of some HR tasks and responsibilities, such as processing payroll. If a company has a subsidiary in a country, it can legally hire employees from that entity.
That still means that payroll needs to be processed, employees need to be paid on time and in their local currency, payroll taxes need to be accurate and remitted to the local government tax authority, and benefits need to be administered. A Global PEO can handle all of those HR tasks for globally expanding companies.
What to Look for in an Employer of Record
When selecting an EOR partner, employers should pay careful attention to several factors. You'll want to make sure the EOR provider you choose offers everything your company needs to be successful in building your global workforce.
Below is a list of important questions to consider when choosing the best Employer of Record for your business.
1. How Many Countries does the Employer of Record Hire in?
You may want to hire employees in a specific country or transfer them from one country to another. Make sure you know what country coverage the Employer of Record company supports from the beginning. The EOR provider should be able to tell you every country they can hire employees in and the right EOR company will have more coverage than their competitors.
2. Is a Global HR Platform Included?
The Employer of Record you choose should have technology that makes your life easier. It should help simplify the complexities of hiring international employees.

For example, can the EOR automate manual tasks and eliminate the risks of human error? Can you quickly hire and onboard employees with the technology? Can you access the EOR from multiple devices? Ensure that the technology is user-friendly, and that the platform is easy to use for your team.
Tech Stack Integrations
Integrations are another important element to consider. You'll want an EOR provider that can connect with the apps and HRIS/HCM systems you already use.
Data Protection & Digital Safety
Inquire about the security and reliability of the EOR platform. It's important to ensure that the EOR can provide secure hosting on a global scale.
3. Does the Employer of Record Include Support Services?
Make sure that the Employer of Record provider has experienced HR professionals who can provide you with the support you need as you hire and onboard new international employees and throughout the employee lifecycle. You'll want to be able to rely on the consultative services the EOR provides - and understand how responsive they are to your inquiries.
The best Employer of Record companies will provide guidance and support for all core human resources responsibilities. You and your staff should be able to rely on in-house experts in global payroll, country-specific taxation law, employment law, benefits, and global compliance. Using an EOR company who does not have expertise in each of these areas leaves room for liabilities, mistakes and the costly penalties that can follow.
4. Does the Employer of Record Provide International Compliance?
Labor laws govern how employers treat employees and provide certain protections for employees. These laws differ by country throughout the world and in each country, the laws are always subject to change at any time.
If a company is hiring internationally and expanding across the globe into many different territories, it can be very difficult to keep track of all the differences in labor laws and the changes that may take place. Generally, companies need to ensure compliance in several areas. The right EOR solution will confirm that an employer follows these regulations.
Nondiscrimination Protections
Many countries have anti-discrimination laws that prohibit discrimination in hiring, employing, and firing.
Compliant Employment Agreements
All employment agreements and contracts must be written and signed according to local law. Depending on the nation's laws, contracts may have different requirements. For example, some countries require contracts that are provided in certain languages.
Minimum Wage
There may be a minimum wage that employers must pay employees. The minimum wage may be nationally, regionally, or locally mandated. Some countries mandate minimum wages by industry or job role.
Statutory Benefits
Every country has different laws regulating mandatory benefits employers must provide such as health insurance, unemployment insurance, social security or pensions, and leave entitlements.
Privacy and Data Laws
Privacy is paramount and data must always be secure. Regulations, such as GDPR, must be followed and data must be collected carefully and legally.
Working Hours and Overtime
The working hours of employees are often set by labor statutes. For example, employees may not be required to work more than 40 hours a week. In some countries, there are also mandatory days or hours of rest in which no employee may be forced to work.
If there are overtime rules, any hours worked over the standard work week may be compensated additionally according to the law. An EOR partner will understand these nuances in the country you want to hire in.
Termination Protections
Outside of the United States, which largely has an "at will" employment philosophy in which an employer can fire an employee without notice for any legal reason, international employees may have termination protections that include the prohibition of firing employees based on certain reasons, such as making complaints, a minimum notice period, severance pay, and even allowing the dismissed individual to take a paid day off once a week to look for new employment.
The right Employer of Record partner will make sure terminations and off-boarding follows the law. An Employer of Record can ensure compliance with all of these laws. Global Expansion's processes are software automated and human-verified to support country-specific compliance.
5. Does the EOR offer a Worldwide Team of HR Experts?
When searching for the right Employer of Record solution, companies should find an EOR that has teams of local experts in every country where they are hiring. Every country has its own laws, customs, and bureaucratic paperwork to navigate to make sure that all employees are being hired legally. Without local experts, companies are at a major disadvantage and risk.
It is important that a company honor country-specific customs and business etiquette. The right Employer of Record will have in-country partners to personally onboard a new employee in their language. A company that respects local culture and value systems will establish strong relationships, more productive working partnerships, and benefit from the best outcomes. A company that ignores the cultural nuances of an unfamiliar country can easily accidentally offend a new employee and damage the working relationship.
6. Does the EOR Company Offer a Robust Portfolio of Global Benefits?
If you want to hire top international talent, you need to consider the type of coverage and benefits you can offer them.

Can your EOR partner provide full health coverage with pension packages? Can you customize the benefits packages and coverage levels that are available for your employees?

It is imperative that your business can offer attractive health insurance, life insurance, and AD&D coverage to your international employees while meeting your business needs.
Hiring International Employees with Global Expansion
Global Expansion is more than just a payroll platform. We have experts and partners around the world who know the local laws and the customary ways of doing business to make sure that every hire is done properly and that the recruiting, hiring, and onboarding processes are seamless.
Our global employment solution offers international PEO and EOR services in 214 countries and territories. If a company intends to hire its next remote team member in any of those countries, we have the entire process covered. We make sure that every hire and onboarding is completed following the local laws and regulations, so employers avoid costly mistakes.
Labor laws and regulations can be complex and difficult to understand and follow without local legal experts. Global Expansion can ensure compliance with experts who know the local laws, customs, and regulations and who can make sure the hiring process goes smoothly. All local labor laws will be followed throughout the whole process.
New employees will be onboarded properly, all their paperwork saved and secured, and the employee will be integrated into the company's payroll and provided statutory benefits. From there, the employee will be ready to work and the company can concentrate on its core business and continued expansion while leaving the HR and hiring to us.
Employers choose Global Expansion EOR services for the simplicity, flexibility, and affordability of hiring international employees with the confidence of knowing that our experts will support you in navigating the complexities of international hiring, compliance, payroll, benefits, labor laws and more.
Schedule a meeting to see how we can help your company hire global team members and discuss your organization's plans for international growth.
Related Articles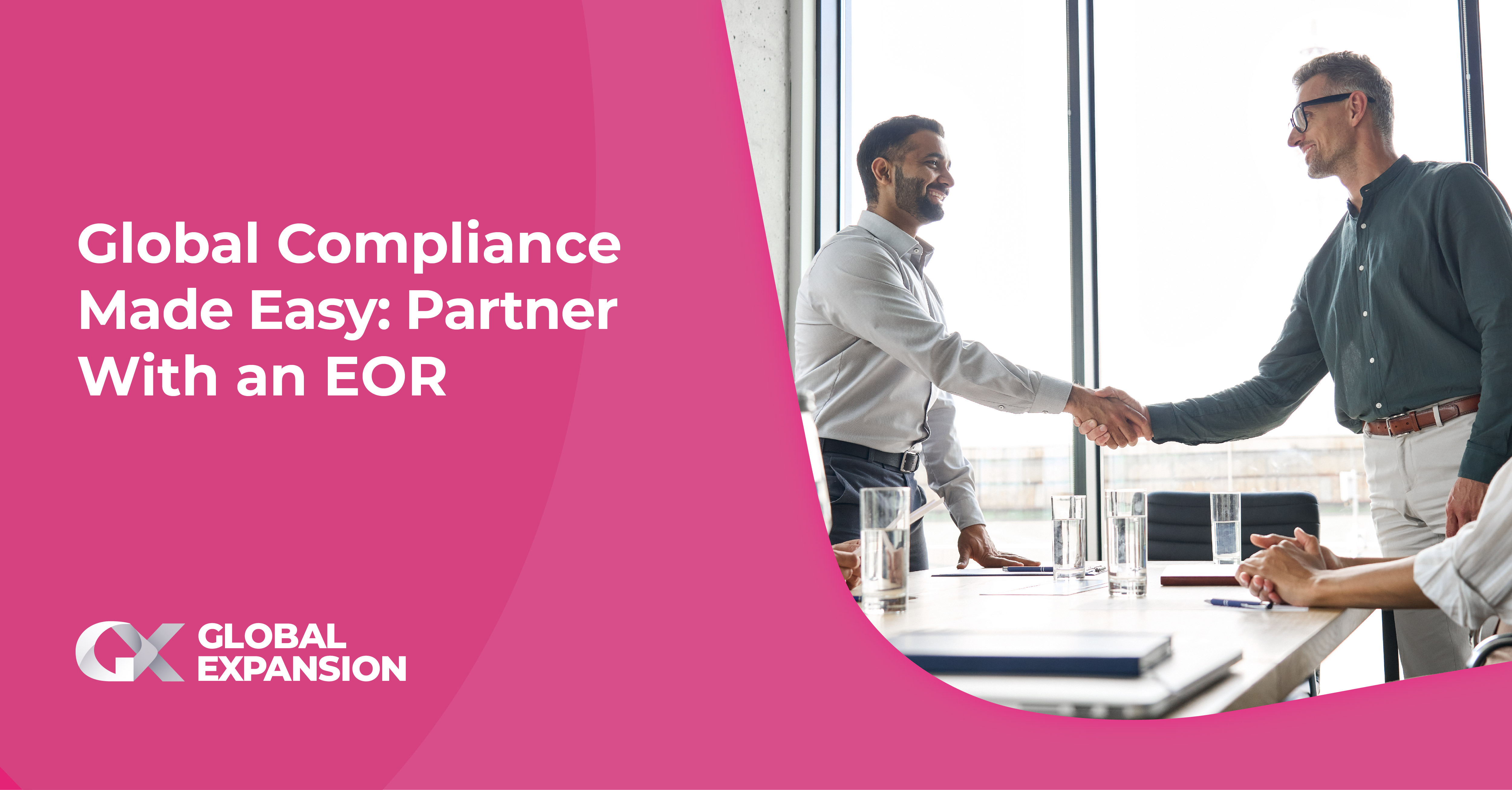 Published on November 11, 2022 , updated on June 9, 2023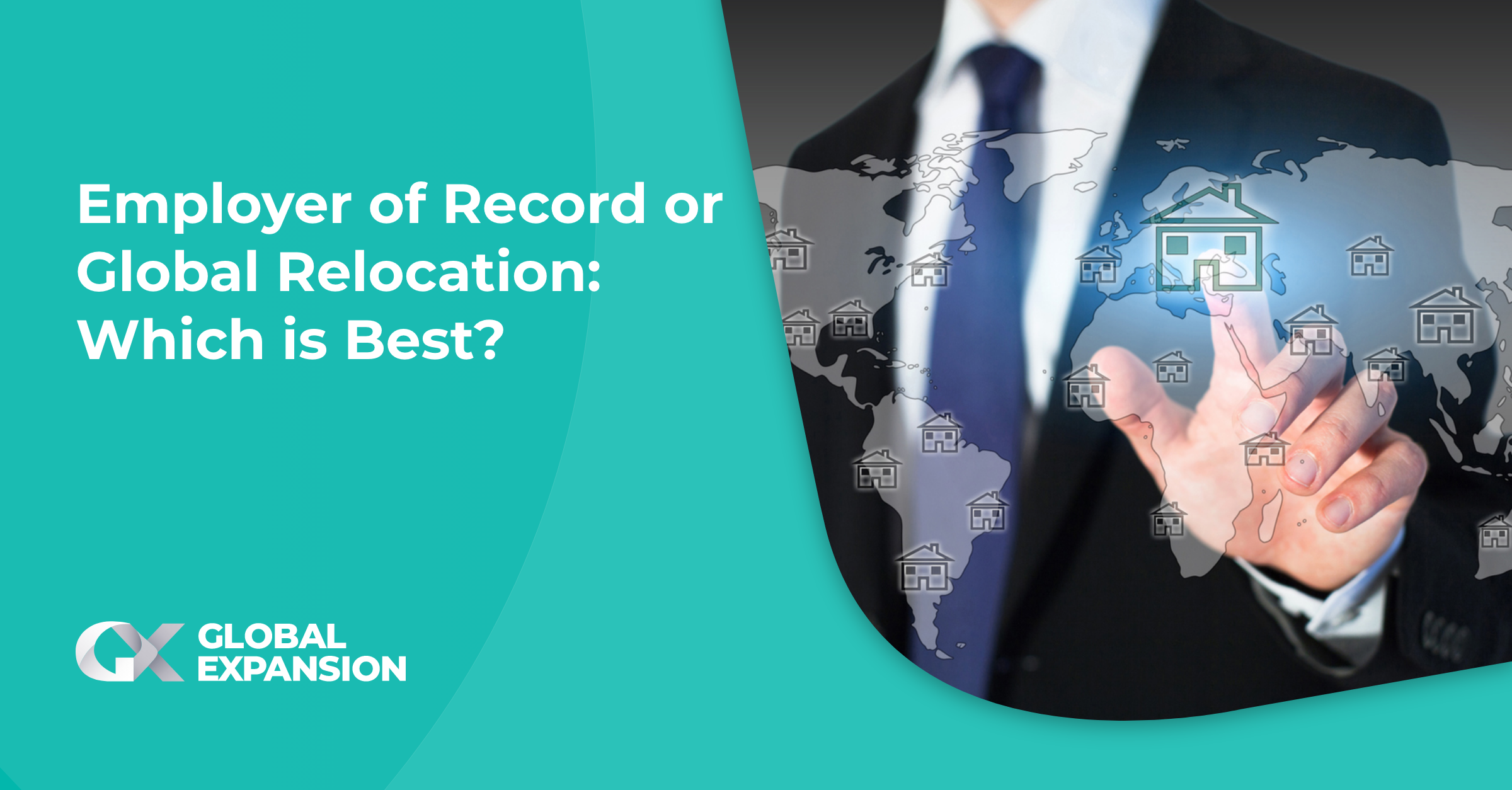 Published on November 11, 2022 , updated on June 9, 2023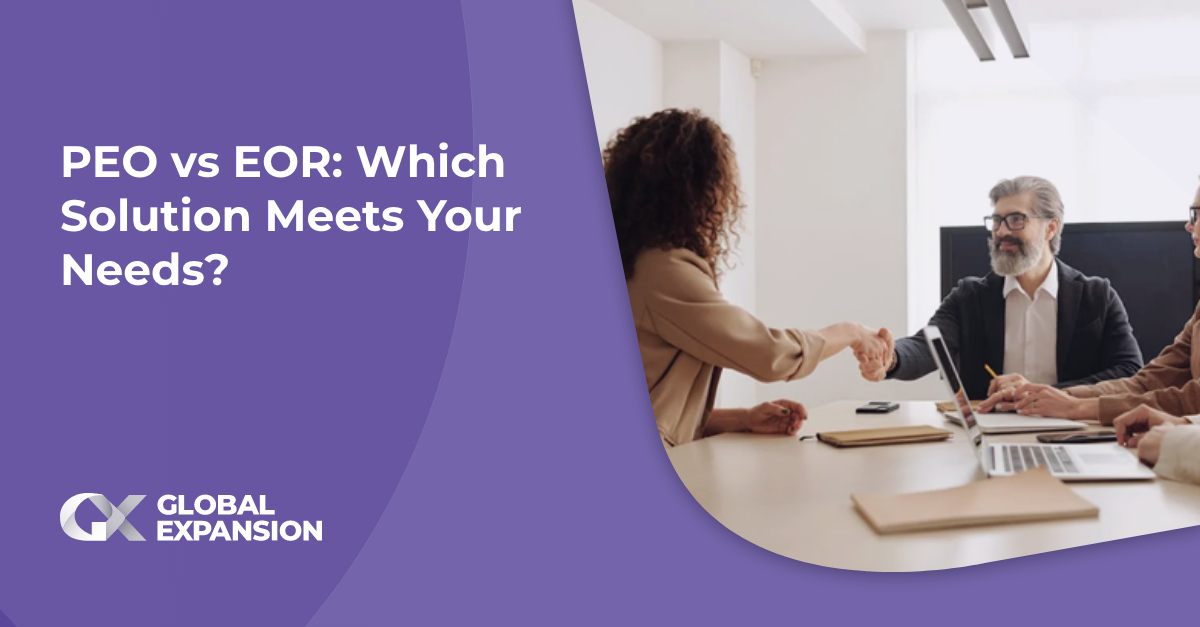 Published on November 11, 2022 , updated on June 9, 2023
Receive the latest GX blog posts and updates in your inbox.