The Definitive Guide to Employer of Record (EOR) Services
The Definitive Guide to Employer of Record (EOR) Services
Published On: May 12, 2023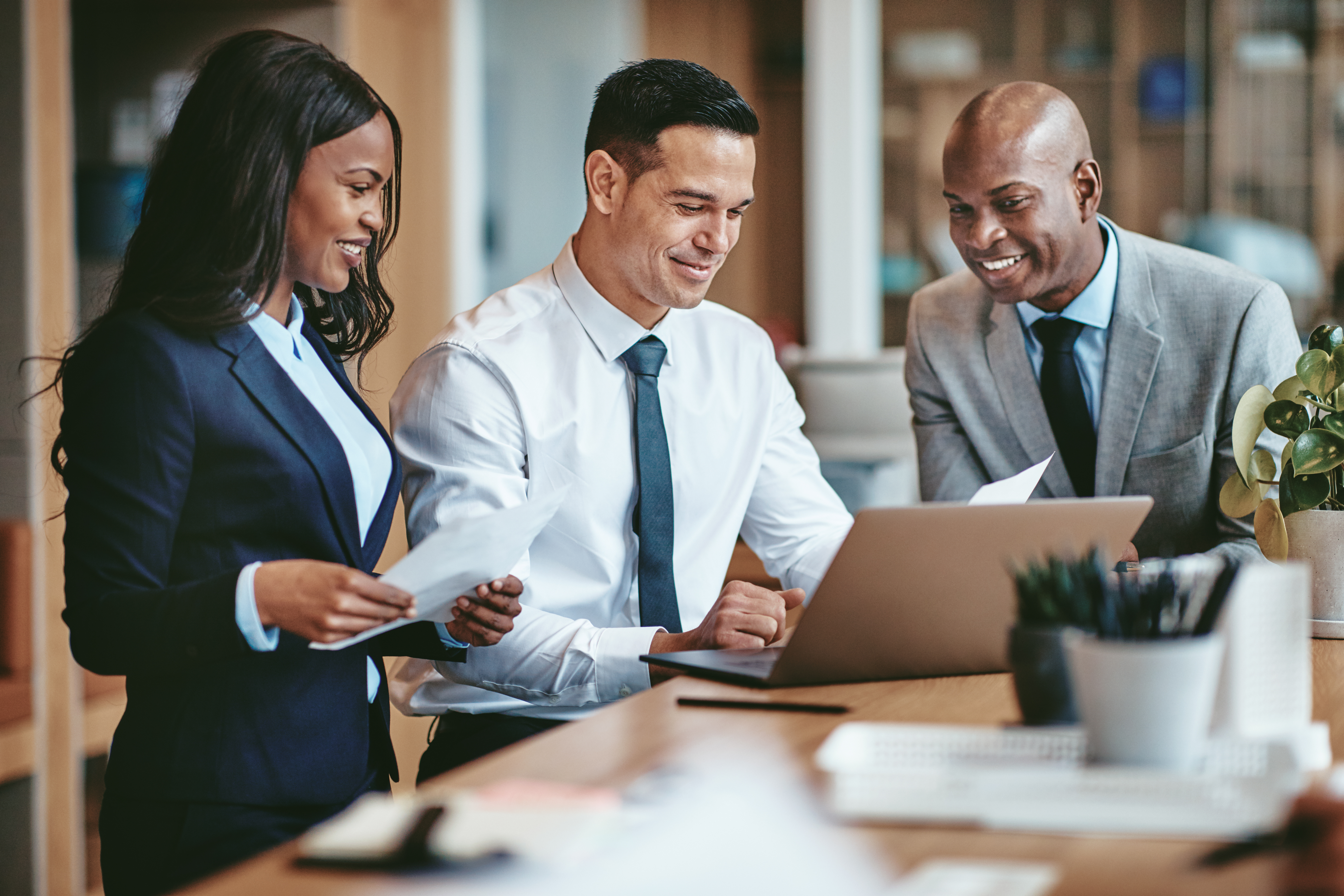 The shift to global remote teams has led to a range of benefits for companies, including the ability to access larger talent pools, improve diversity and inclusion, reduce labor costs, and increase innovation. More businesses are taking advantage of broader talent pools and expanding their searches for candidates outside their home countries.
To legally hire highly skilled workers from anywhere in the world, businesses traditionally needed to set up an entity or subsidiary in the country of the new employee. However, partnering with a Global Employer of Record (EOR) is the smarter, simpler, and quicker solution to today's ultra-competitive global talent acquisition landscape.
This article explores what an Employer of Record is and how it benefits expanding organizations.
What is an Employer of Record (EOR)?
An Employer of Record (EOR) helps businesses grow internationally by enabling them to hire foreign workers in-country without having to set up a legal entity. On paper, the EOR serves as the registered employer of an organization's international team. With an EOR, the business doesn't have to worry about managing immigration procedures like visas, work permits, and tax payments.
The Employer of Record takes care of all these details and uses its Taxpayer ID to handle them on behalf of the business. The original employer, however, retains responsibility for the day-to-day management of its global team.
An EOR also helps businesses increase productivity and capitalize on international growth opportunities through a global workforce; when organizations tap into the global talent pool, they can find people with a greater variety of skills and backgrounds, mitigating labor shortages.
By mobilizing its workforce, employees can take advantage of the freedom that comes with working remotely. Companies can also benefit from international employees' cultural knowledge of the new markets into which they're expanding.
While some businesses choose to take on these responsibilities independently, without an EOR, its HR team would need to rapidly become experts in the foreign labor laws of the countries in which they hire.
Familiarizing teams with complex labor laws takes a significant amount of time and resources–and that's required before the expensive and laborious process of setting up the proper legal entities required to hire abroad.
Today, a growing number of companies are bypassing the outdated entity-setup model to fast-track their international hiring efforts with an Employer of Record.
How Does an EOR Work?
An Employer of Record can adjust its functions and responsibilities to suit the unique needs of a business. Below are some of the critical business tasks it can perform for the hiring company.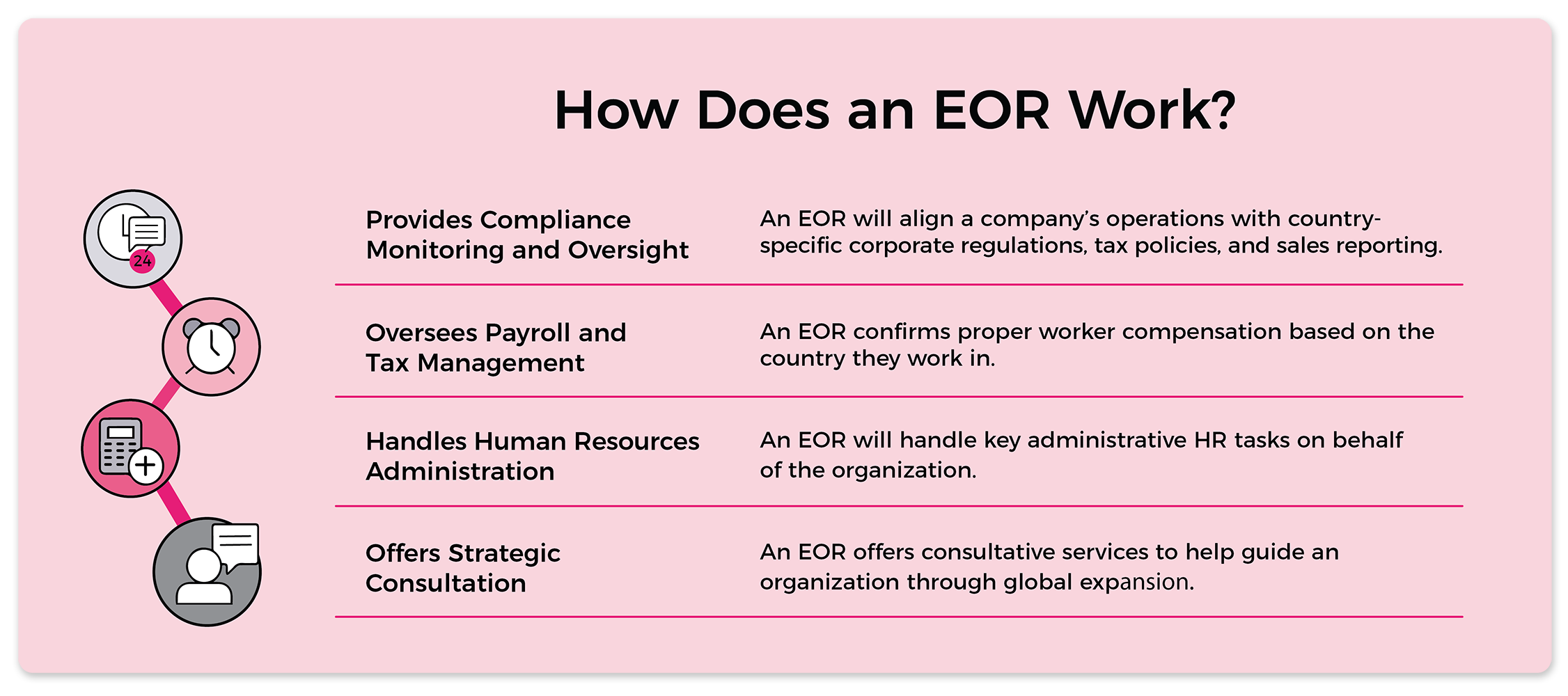 1. Compliance Monitoring and Oversight
An EOR aligns a company's operations with all country-specific corporate regulations, tax policies, and sales reporting. Non-compliance can result in fines and penalties, damaged reputation, delays in expansion and, in instances of significant error, the voluntary or forced exit from a country.
2. Payroll and Tax Management
Expanding into a different country means paying employees and taxes according to local laws and regulations. An EOR confirms a company compensates workers correctly, provides government-mandated and country-specific benefits, and computes taxes and tax deductions. Failure to manage these tasks could lead to inexperienced human errors, penalties, and business closure.
3. Human Resources Administration
An EOR handles key administrative HR tasks, such as:
Onboarding local talent
Arranging employee benefits
Drafting locally compliant employment contracts
Administering paid leave deductions
While an international network of experts can assist a company's team with a seamless and efficient onboarding process for its employees, the EOR can also, with its original employer's approval, legally terminate employees.
4. Strategic Consultation
Businesses often face significant challenges when expanding across borders, and experienced insight becomes crucial for making wise, informed decisions. An advisory EOR offers consulting services to help guide a company through global expansion, including:
Entity setup (if needed later on)
Employee classification
Compensation
Benefits
Compliance
Company- and market-specific needs
When to Use an Employer of Record
International business expansion requires time, effort, and patience. An Employer of Record manages crucial expansion duties so management can focus more on bigger business decisions.
1. When Expanding a Business Globally
Expanding a business into new countries offers access to new consumers, growth opportunities, additional resources, the latest technologies, and increased shared information. This can help a business develop robust go-to-market strategies for its products and services.
Advisory EORs, specifically, can offer key support when facing country-specific opportunities and/or challenges. That's why businesses must ensure they choose a partner with experience in their target market(s).
2. When Attracting and Retaining the World's Top Talent
A Global Employer of Record helps companies offer competitive benefits packages and in-country remote positions that are more attractive to top candidates. Companies can attract the strongest candidates who match the skill sets they need without being restricted by borders.
3. When Companies Need to Hire Quickly in a New Country
An EOR enables a company to hire international talent within days without needing to incorporate locally first. This puts the organization in charge of its hiring process without limiting its options based on employee location. Also, recruitment spending is reduced due to the often lower costs associated with international talent, depending on the candidate's location.
4. When Immigration or Visas Fail
Global EOR services eliminate the complicated and often frustrating work permit, visa, or immigration processes. Utilizing a Global EOR helps companies keep or retain skilled candidates because immigration or visa applications were denied, or in U.S.-based companies' cases, because an applicant lost the H-1B lottery. Thanks to Global Parking, companies can hire a candidate as a remote employee in the country where they reside.
5. Corporate Divestitures
Employer of Record services can play a critical role in corporate divestitures by providing a streamlined solution for managing employee transfers. In a divestiture, it is often necessary to transfer employees to a new entity, which can be complex and time-consuming. EORs can act as the legal employer of transferring employees, providing a simplified and compliant process for managing payroll, benefits, and other employment-related matters.
Advantages of an Employer of Record
Partnering with an EOR means acquiring more than just a quick hire: Companies get a partner that can help them achieve their business goals faster, reduce costs, save time, and navigate the complexities of country-specific employment compliance.

1. Faster Business Expansion
Establishing a legal entity is a time-consuming, expensive, and headache-inducing process. An EOR has entities and networks that help its clients expedite global expansion plans, build international teams, or hire one-off employees abroad for short- or long-term projects. This allows them to focus on developing business plans and executing go-to-market strategies without the distractions of entity establishment.
2. Cost-Efficiency
An Employer of Record service helps reduce costs by reducing compliance errors and the associated penalties while saving the company operations and entity setup costs. Additionally, reputable EORs provide companies with transparent costs in hiring and compensating employees, so they'll never receive surprises in their billing statements.
3. Employment Compliance Guidance
EORs are experts in tax and employment law, and business regulations in specific countries around the globe so that organizations remain compliant. It will not need to keep up with the ongoing changes to foreign labor laws in the countries it wants to hire in.
4. Streamlined and Precise Operations
An EOR offers services and/or a platform that streamlines and automates core global HR functions, saving hours of ongoing admin and reducing human error.
How to Choose an Employer of Record
When choosing an EOR partner, companies need to feel confident that they can compliantly hire and pay their global workforce. The right partner will have the knowledge and expertise in payroll, benefits, and local labor laws in the country the company wants to hire in. Not every Employer of Record offers the same global footprint, so businesses must explore an EOR's offerings before making the decision.
The following list highlights several important factors to consider when choosing an EOR partner.

1. Assess Their Service Quality
Choosing the right EOR is not only about managing employee benefits and compensation accurately. The perfect Employer of Record partner will be flexible enough to adapt to businesses' unique needs, structured enough to smoothly guide them through the international HR process, and reliable enough to quickly respond to serious questions.
2. Determine if the EOR has a Proven Track Record
It's important to choose a partner with a strong background in successfully onboarding international employees. Ensure that the EOR has expertise in the countries the company wants to hire in and offers transparent pricing.

Websites like G2 and Capterra provide unbiased reviews of Employers of Record and should be part of any research process.
3. Check the Plans and Pricing
Some EORs have fixed fees for each employee, while others may charge a flat rate on the worker's salary. It's valuable to consider which option best suits the business's budget and development stage. Having a partner that can work within a budget on termination fees, taxes, setup, and other additional costs can prevent the business from incurring substantial losses.
4. Know the EOR's Data Security Parameters
An EOR handles important employee information such as salaries, addresses, bank details, and government-issued ID information. Therefore, hire one that follows international data privacy laws and regulations. For added protection, companies may consider using data privacy management software to automate data management processes, restrict access to confidential information, and improve data reporting.
Partnering with the Most Experienced Employer of Record in the Industry
At Global Expansion, we believe in people-first Employer of Record solutions, tailored to meet your business's unique needs. Our team of experts is dedicated to helping you establish your international presence so that you can focus on bigger, long-term business goals—not get sidetracked by complex compliance concerns.
With entities and local experts in 214 countries and territories, Global Expansion enables you to compliantly hire and pay your global workforce with confidence. With our award-winning technology and a team of experts on your side, your company is set up to succeed around the globe.
Get in touch with us to discover a better, faster way to build global teams.
Related Articles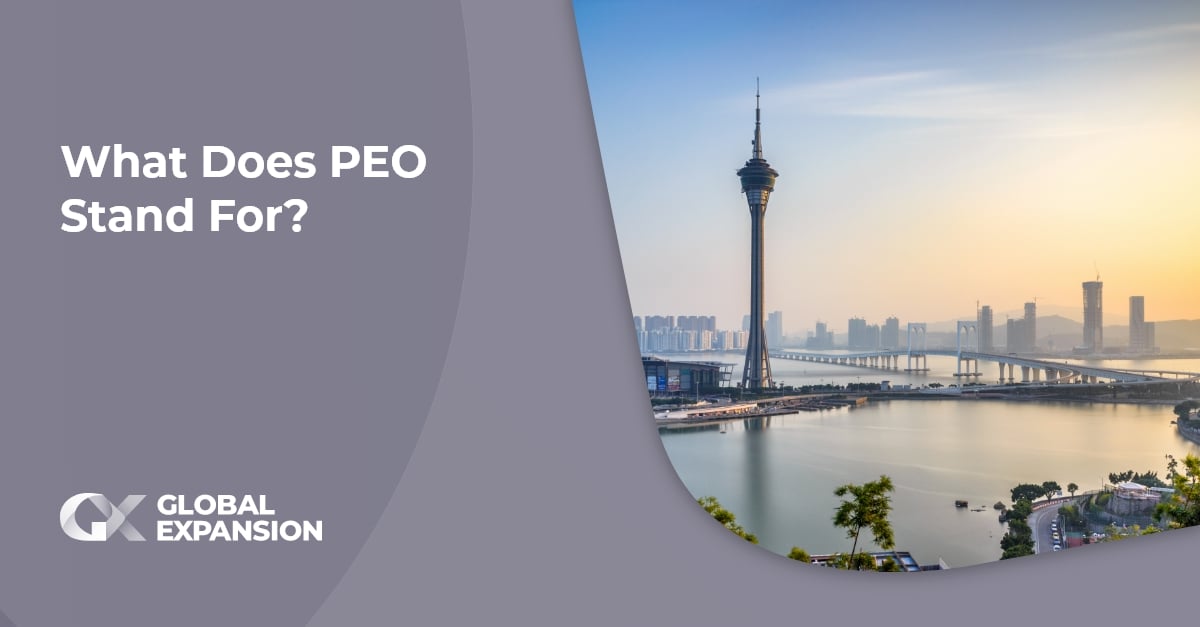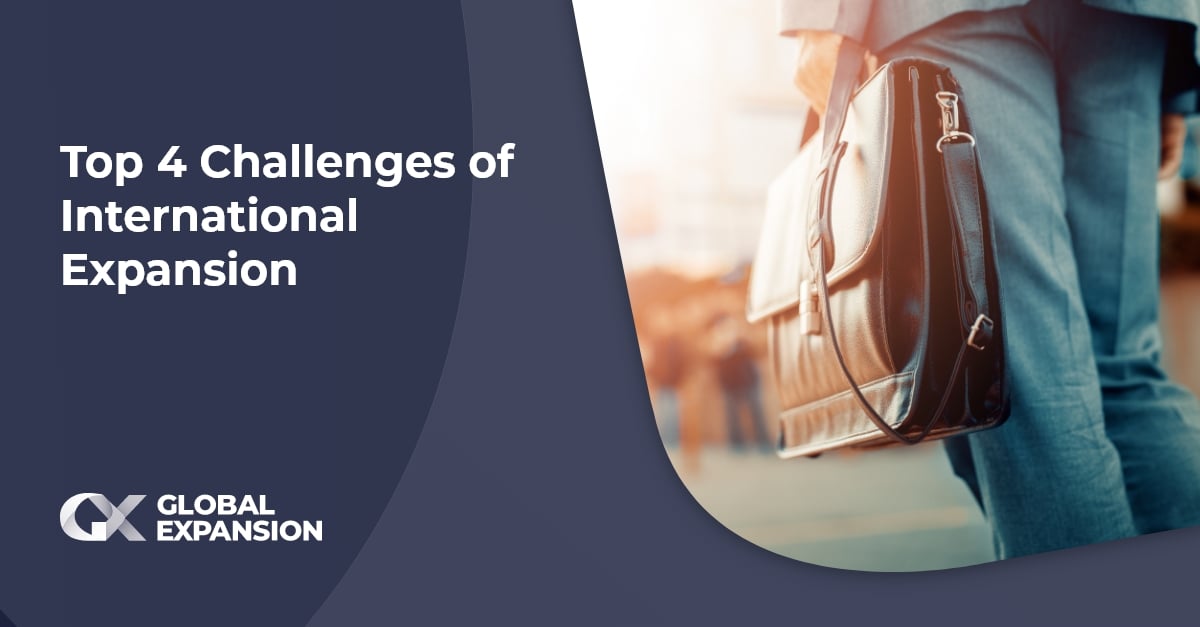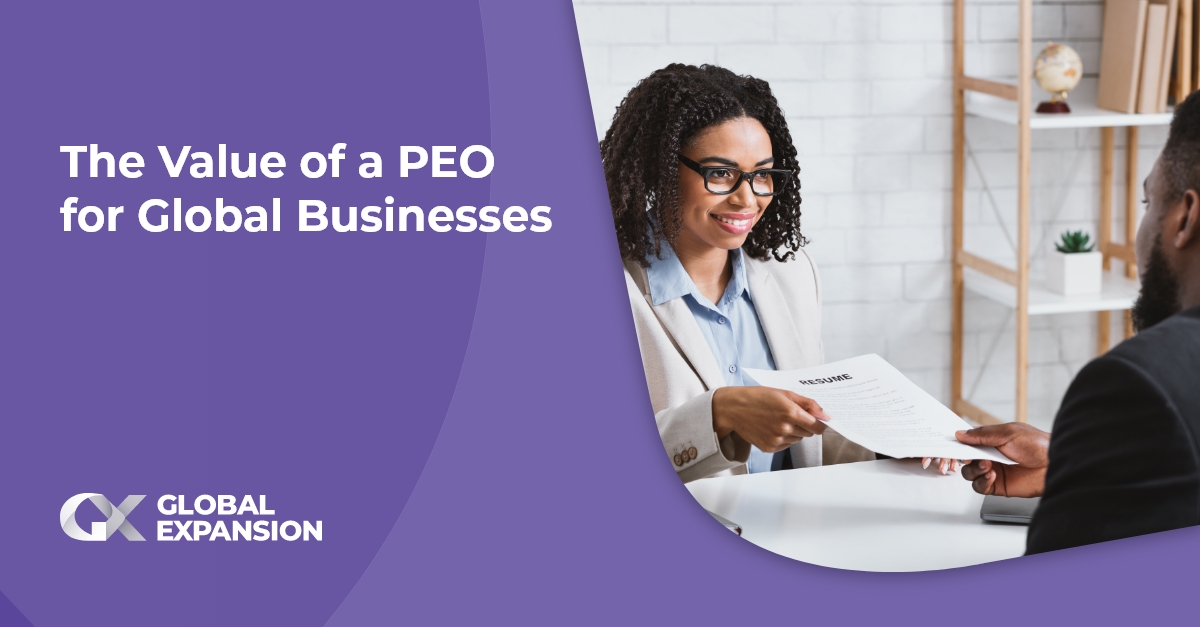 Receive the latest GX blog posts and updates in your inbox.