8 Ways an Employer of Record (EOR) is the Perfect Global Workforce Solution
8 Ways an Employer of Record (EOR) is the Perfect Global Workforce Solution
Published On: November 01, 2022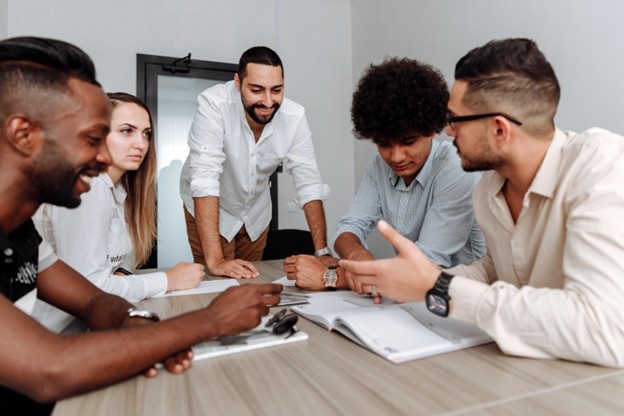 In today's fast-paced and highly competitive marketplace, companies who wish to compete must consider international expansion to grow their business, diversify revenue streams, enhance brand recognition, and access new consumers. Businesses are looking for ways to tap into the international talent pool as an initial step to maximize growth and increase revenue.
According to experts, in the next few years we will see an increase in global hiring and mergers. While the payoff is massive, navigating these unfamiliar territories is challenging; particularly for HR departments.
Many companies work with an Employer of Record (EOR) to successfully build a global team in order to avoid costly mistakes, streamline global HR tasks, and improve international compliance. When you partner with an EOR, you can focus on operational efficiencies and expect to see a strong ROI.
What is an Employer of Record?
An Employer of Record manages critical HR functions for businesses by managing global payroll, employee benefits, and employment compliance.
The Global Employer of Record is the full legal employer of the company's international workforce. The EOR provider is the employer on paper, while the company manages the day-to-day responsibilities of their workforce. This arrangement allows growing organizations to hire in new countries without having to first setup a business entity. Setting up foreign business entities can be costly and time-consuming; the service of an EOR provider fast tracks the company's expansion.
The Global Employer of Record enables organizations to onboard international talent to their team without risking violation of in-country employment laws. Some of the main responsibilities of EOR companies include:
Payroll processing
Secure handling and storage of sensitive documents and information
Creating and maintaining employment contracts
Conducting drug screenings and background checks
Managing employee onboarding (new hires)
Managing expenses and reimbursements
Offering HR support to employees
Hiring global talent on your behalf
Administering employee benefits
Terminating employees
Ways an Employer of Record Can Help Your Company With Global Expansion
Here are some of the many ways an Employer of Record solution can accelerate global expansion:
Streamlining International Payroll
The global hiring and payroll process can be time-consuming and complicated for your HR department. There are many differences in the payroll requirements and statutory contributions in different countries. The right Employer of Record partner can save you the hassle of navigating:
Unfamiliar laws and regulations
Cultural differences
Varying hiring policies and requirements
Offboarding and onboarding processes
Tax filings
Statutory benefits
This will allow you to maximize your company growth without dealing with these sometimes stressful processes.
Seamless and Quick Global Hiring
An Employer of Record partner can assist your company in hiring the right global talent for the role, no matter where they reside. Global expansion can be time-consuming so it is ideal to have experienced professionals managing your global hiring processes.
An EOR provider empowers businesses to bypass the efforts needed in establishing legal business entities in countries they want to hire in, saving them significant amounts of time and money and helping to streamline the hiring process.
Employer of Record companies usually have a platform that is used to make onboarding new hires seamless. In turn, an EOR provider accelerates and simplifies the process of expanding your international workforce. They also take care of setting up the employment contracts based on the local laws.
Administration of Employee Insurance and Benefits
When you expand your business by recruiting global employees, it is important to ensure your employees are well taken care of through insurance and benefits plans. An Employer of Record provider can make it easier to administer employee benefits and insurance; offering diverse benefits packages that include:
Health Insurance
Life Insurance
Short- and Long-Term Disability Insurance
Retirement and Pension Plans
Travel Insurance
Some EOR providers, like Global Expansion, also have specialized benefit offerings such as Equity and Options Processing. This kind of offering allows your employees access to world-class benefits and insurance coverage suitable for their individual needs.
Managing Employment Compensation, Contracts, and Termination
By entrusting an EOR company with your core human resources responsibilities, you remove the stress associated with payroll processing, employment contracts, and termination. Many large businesses will enlist the help of an EOR during mergers and acquisitions, where all support is crucial to maintaining operations. An Employer of Record ensures precision and accuracy by handling:
Employee Contracts: the standardized employee contract is not be applicable to global employees. An Employer of Record can assist you in creating lawful contracts to protect both you and your employees.
Employee Terminations: terminating a global employee could result in legal complications if you are unaware of that respective country's policies and laws. An EOR can manage the legalities to ensure a streamlined termination process.
Compensation Programs: an Employer of Record will offer a robust portfolio of compensation programs for employees based on their location to increase employee satisfaction. These highly competitive benefits packages will help you to attract and retain the best global talent.
Utilizing EOR services for complex HR tasks saves hours of ongoing administration, ensures accuracy in compliance, and saves significant operations costs.
Compliance with Local Laws
Expanding your business and recruiting global talent means you must be knowledgeable about all the local laws and regulations, as it could impact the working rights and conditions of your global employees. By not doing your due diligence, you risk paying hefty fines and costly legal disputes. A Global Employer of Record is an expert on the laws and regulations of the countries they serve, reducing human error and the associated penalties.
Decreased Risk Footprint
Your company can avoid the likely risks associated with international expansion with Employer of Record services. Recruiting global talent significantly decreases your risk footprint since the EOR manages all employee-related liabilities. This protects you from risks associated with managing adherence to international labor laws, tax withholdings, and other compliance related issues.
In the case of any employment-related legal issues, the EOR company would share the liabilities with you and protect your company from these imminent risks.
Reduced Operational Costs
Employer of Record providers make it easier to operate and access a global talent pool at reduced costs. An EOR and its available technologies can make it easier for you to:
Expand your business
Hiring quickly instead of setting up a local subsidiary
Manage the onboarding process
Automate and administer international payroll, and more
It's a cost-effective way for companies to integrate international human resources for global expansion.
Centralized System for International and Local Hires
An Employer of Record creates one centralized system for your company's local and international hires. All employee records and documentation can be stored and accessed in a single place, making it easier for you to:
Manage your employees
Conduct performance reviews, and;
Provide relevant feedback
This saves time and allows you to have the insights you need at your fingertips.
Wrapping Up
Partnering with an Employer of Record company is one of the best decisions you can make to accelerate your international business expansion. EORs save your business time and money while providing top-notch service for your employees.
At Global Expansion (GX), we are here to help accomplish your major business objectives - from onboarding to performance reviews. Our face-to-face guidance and ongoing support set our services apart from the rest. Speak to an expert today to take a major step toward international expansion.
Receive the latest GX blog posts and updates in your inbox.