Go Global: Employer of Record Canada
The Canadian economy is among the ten largest economies in the world and boasts a $1.99-trillion economy with an average income tax rate that's lower than the United States. It offers a progressive taxation system that benefits businesses, as well as access to over one and a half billion consumers through international trade agreements and partners.
Canada also stands out as one of the most educated countries in the world, meaning employers can access a pool of talented individuals from various fields and industries—whether in finance, technology, healthcare, or elsewhere. In fact, Canada leads the G7 in terms of the most educated workforce. Recent reports indicate that 57.5% of Canada's working age people (ages 25 to 64) have earned a university credential. Nearly a fourth of them (24.6%) completed a college diploma or certificate course.
Hiring in Canada
Organizations hiring in Canada generally choose between two options: either establishing their own legal entity or working with an Employer of Record (EOR).
The first option, establishing a local legal entity, is a direct approach that comes with many complex, time-consuming risks. Some of the potential complications that come with incorporating or opening a local branch in Canada include:
Incorrect payroll or deductions
Misclassification of employees
Permanent establishment risks
Complex compliance requirements
Aligning compliance with local labor laws when hiring in Canada requires a thorough understanding of government regulations, as they vary from province to province. Failure to comply with these regulations will result in penalties, fees, or criminal liability.
The second—and more affordable, faster, and smarter—option is to work with an Employer of Record Canada. An EOR acts as the direct employer on behalf of another organization. This allows organizations to hire people in Canada remotely without having to set up a legal entity in every location where their teams work. The EOR takes care of all the necessary payroll and compliance paperwork for these remote employees. Therefore, hiring employees in Canada through an EOR mitigates most of the risks of establishing a legal entity.
How to Choose the Best Employer of Record
It's essential for a business to choose an EOR that offers services tailored toward the specific country's hiring requirements. So, if an organization is looking to hire in Canada, it must ensure that its EOR actually offers services in Canada and understands how to navigate the country's labor laws.
Ideally, an EOR Canada partner can offer a comprehensive platform that oversees the hiring, paying, and management of workers. A full suite of services under one dashboard ensures that the managed service is more effective and efficient for client organizations in the long run. This also allows the EOR to offer the same global expansion capabilities elsewhere.
Additionally, assess the pricing structure. You should generally opt for transparent pricing charges or a straightforward flat fee. More complex pricing structures may hide unobvious costs that can add up quickly.
Finally, consider the credibility of the EOR Canada. Be certain that they are accountable and knowledgeable about all aspects of Canadian employment statutes. Confirm that they have previously successfully managed large-scale international expansion projects.
Frequently Asked Questions About Hiring in Canada
What risks are involved with employing contractors in Canada?
The primary risk associated with engaging independent contractors in Canada is the lack of benefits (reserved only for formal employees). Contractors are seen as independent parties, and they typically do not receive access to healthcare, vacation time, pension contributions, or other employer-paid benefits available to employees.
You also run the legal risk of misclassifying an employee as a contractor; some organizations have been known to purposefully do so in order to avoid applicable employment laws and regulations. However, even if organizations mistakenly misclassify workers as contractors when they should be employees, they are still fully liable for damages.
What is the minimum wage in Canada?
In Canada, the minimum wage rate is not uniform among provinces and territories. The Retail Council of Canada regularly updates the respective pay floors. Currently, there are provincial base wages that range from a low of CAD$13 per hour to a high of $16—both mandated by federal legislation for inflation protection reasons. Each province or territory can individually determine its minimum hourly compensation so long as it does not go beneath the set level.
Can a U.S. company hire a foreign employee in Canada?
A U.S. company can hire a foreign employee in Canada depending on the nature of work and both parties' legal status for employment within each country's laws and regulations. Companies must ensure that both parties meet all hiring, wage, expenditure, and tax requirements to prevent possible legal issues from happening down the line.
Do we have to secure visas to employ a Canadian worker?
No, securing visas is typically not required to employ a Canadian worker. However, work permits and other documents are required depending on the type of job being offered.
Can I just hire a Canadian worker directly?
Organizations cannot hire a Canadian employee directly. They need to either establish a local entity or engage the services of an EOR. Alternatively, they may work with an independent contractor, but that opens up numerous risks that also require in-country knowledge of labor laws. Working with an EOR Canada circumvents this risk.
What is the hiring process in Canada?
Much like in the United States, the typical hiring process in Canada involves a job posting, a review of resumes and applications, interviews with candidates (in-person or virtually), reference checks, background checks (if applicable), and lastly, an offer.
Most employers must perform a Labor Market Impact Assessment (LMIA) prior to hiring a foreign worker. If the LMIA comes back positive, that means the candidate is able to fulfill a job requirement that could not be filled by Canadian citizens or permanent residents.
Why use Global Expansion's EOR Services?
Global Expansion provides comprehensive Employer of Record services with entities and experts in over 214 countries and territories. We pride ourselves on offering the highest level of support to businesses looking to employ talent in Canada.

Speak to one of our experts today to learn how Global Expansion can help you quickly and compliantly hire in Canada.
Related Articles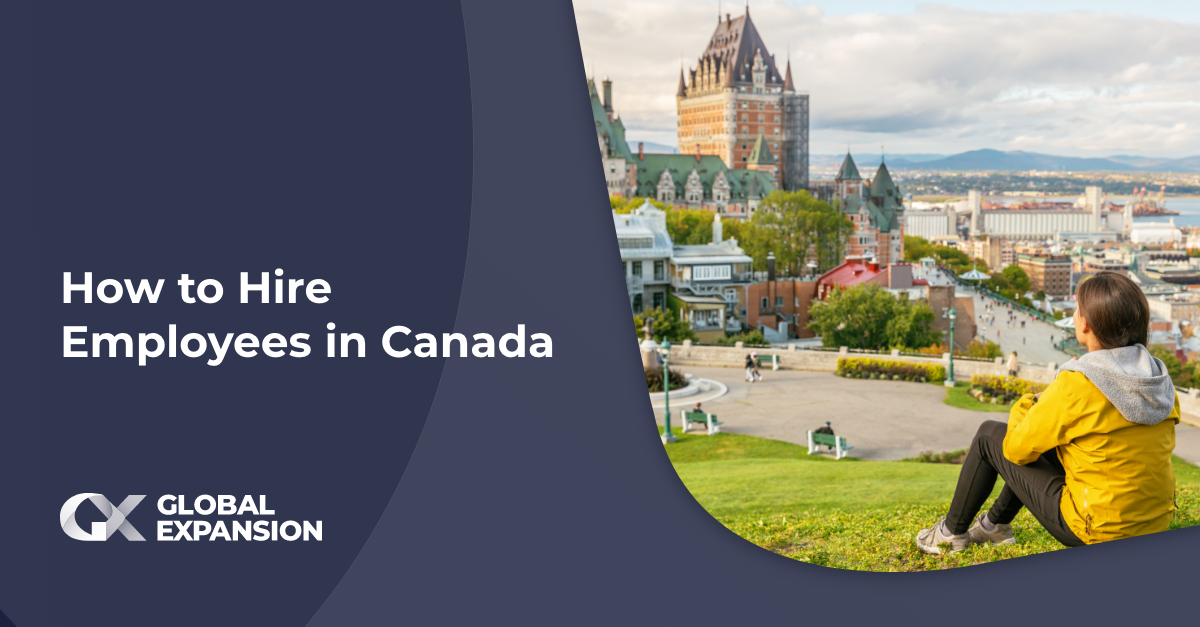 Published on February 17, 2023 , updated on June 9, 2023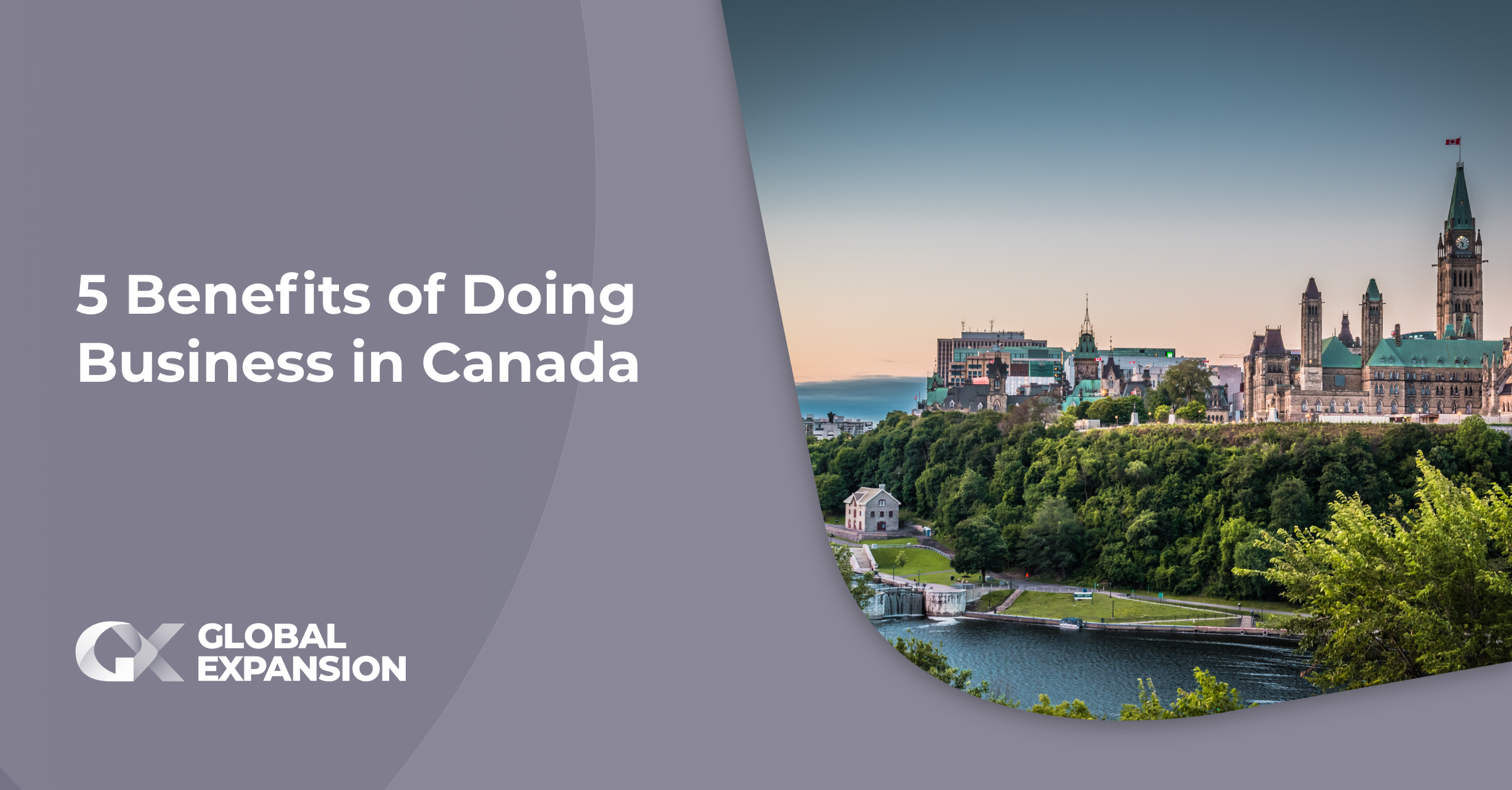 Published on February 17, 2023 , updated on June 9, 2023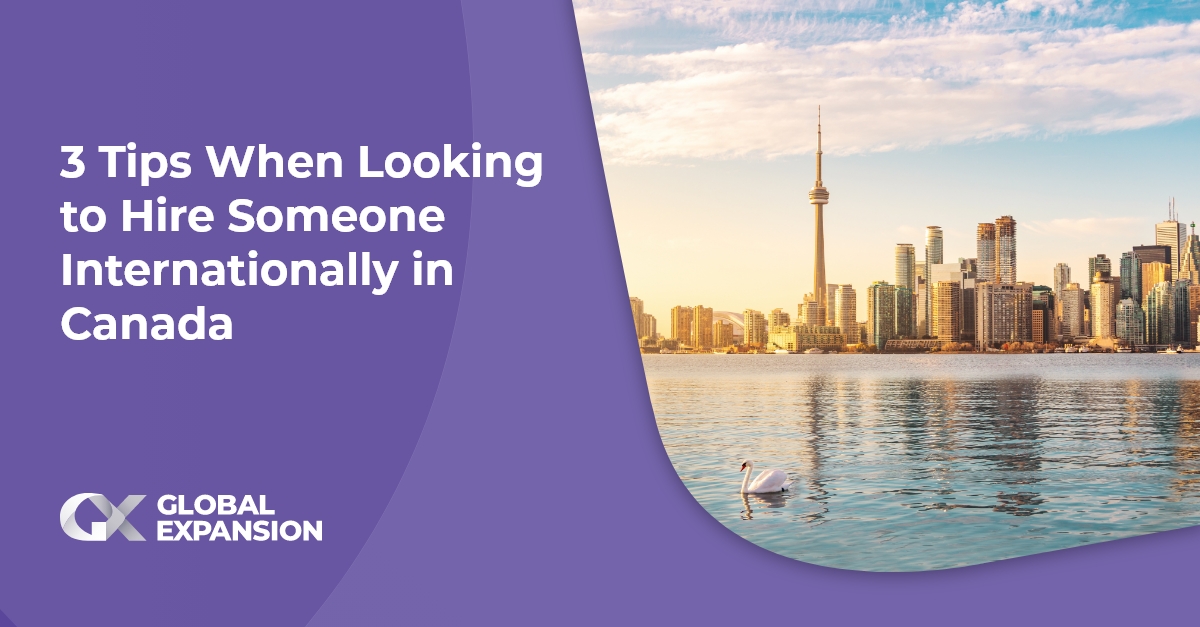 Published on February 17, 2023 , updated on June 9, 2023
Receive the latest GX blog posts and updates in your inbox.