Best Methods of International Expansion
Best Methods of International Expansion
Published On: August 24, 2020
Updated On: March 24, 2023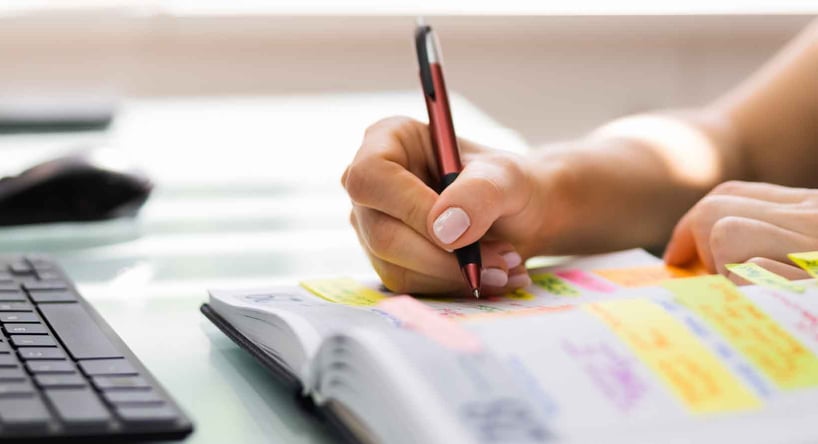 When a business has exhausted domestic opportunities, expanding into international markets just makes sense. Global expansion is a great way for companies to diversify and broaden their business model, venture into new and emerging markets, and explore the possibilities of international talent pools.
What is international market expansion?
International expansion is the transition from a strictly domestic business model to a global one by entering a new country and market. Not only does this involve seeking new business opportunities abroad, but it also includes the operational growth of the business itself—whether it's establishing a permanent establishment, testing a market with a short-term assignment, finding a local partner, or recruiting local talent on your own.

It's important to approach global growth with a strategic mindset to be successful. Factors to consider include the reasons for expansion, target countries, and how to expand compliantly.
Reason for international expansion
There are many reasons an organization might be considering international expansion as the next step for growth. Four of the most common include:
1. Increased revenue
When domestic market expansion has reached its peak, the next logical opportunity is overseas expansion. Global expansion opens up new revenue streams and excellent opportunities to maintain consistent growth.
2. Find more top talent
Hiring international talent has many advantages, including language skills and diverse educational backgrounds. International expansion also allows companies to employ local talent with the expertise to navigate cultural nuances and communicate appropriately and effectively with local clients.
3. Expanding customer base and offerings
With a much broader customer base, organizations can capitalize on more business opportunities. A new customer base in a new country opens up opportunities to invest and introduce new products and services.
4. Cost savings
Operational costs in different and emerging markets can be much more affordable. Whether it's manufacturing, procurement, distribution, or talent acquisition, global growth has the potential to significantly reduce overhead.
International expansion methods
Depending on an organization's circumstances, there are many international expansion strategies to choose from when pursuing growth into foreign territories, each with benefits, challenges, pitfalls, and considerations. Some countries have unique and sometimes difficult legislation in place to protect their markets, while others are very open in an effort to attract foreign companies. Understanding the different types of international expansion strategies will help businesses determine which approach to take to ensure the greatest likelihood of success.

Below are three of the most common strategies to consider, including their pros and cons.
Licensing arrangements
Licensing arrangements allow other companies to use another's intellectual property, but stipulations surround these use cases. For example, a licensing arrangement is either exclusive to a company, non-exclusive, or specifically exclusive to a location or circumstance.

It's a relatively simple way to capitalize on a foreign market and usually affords a business access to pre-existing supply chains and distribution methods. Licensing arrangements are found in many places, such as franchising and private labeling.

When it comes to licensing arrangements, the amount of legislation involved can be off-putting. However, bringing a product to market without outside assistance may seem like a more attractive option, especially when a business wants to increase brand reputation in an area. Still, relying on a local partner to maintain brand identity can be a daunting prospect.

It's pivotal to find the right licensor; businesses don't want their reputations downgraded through association with an unpopular brand name.

Furthermore, licensing arrangements apply differently across the world. For example, in the UK, the Intellectual Property Office stipulates that companies must obtain a 'license of right' with their product patent, which means that other entities can now license those products. UK companies must fill out Patents Form 28 and then have potential licensors approach them directly.

This is just one example; each country has its own approach that needs to be understood before making any progress.
Pros
Quick market access.
Leveraging licensee experience and market position.
Increased revenue and reach from new markets.
IP licensing may create collaboration opportunities for further innovation.
Cons
Cross-border IP legislation can be complex.
Legal fees can be high.
Risk of breach by third party.
Mergers and acquisitions
It's a common phrase with a more common meaning, describing the state where one organization can either 'merge with' or 'acquire' another. Think of Exxon Mobil (formerly Exxon and Mobil respectively), or when Disney acquired Pixar or Marvel.

Mergers and acquisitions (M&As) can be greatly beneficial providing businesses with the full infrastructure capabilities of a separate organization already set up and able to function in a target country. However, preparation and completion of M&As can take years, and is typically an expensive venture.

Additionally, there's the issue of exchange and interest rates. If the acquiring firm is from a country with a weaker currency, the process can be even more expensive. Conversely, the opposite can be true for companies from countries with stronger currencies.

There's also the issue of regulatory statutes. Like with licensing arrangements, these vary from country to country. For example, in the U.S., foreign companies are not allowed to own more than 25% of an American airline.

There are a number of key legislative propositions that apply to both foreign countries seeking to merge with or acquire other organizations on American soil. For example, Section 7 of the Clayton Act provides that no individual or company can acquire the whole stock, share capital or assets of another "where in any line of commerce . . . in any section of the country, the effect of such acquisition may be substantially to lessen competition or tend to create a monopoly."

The Hart-Scott-Rodino Antitrust Improvements Act of 1976 (the "HSR Act") can be another significant hurdle to overcome. The HSR Act maintains that M&As cannot be completed until the involved organizations have filed the case with the Federal Trade Commission (FTC) and the Department of Justice. These agencies then determine whether the transaction will adversely affect US commerce under antitrust law.

Mergers and acquisitions are high-risk, high-reward expansion methods and should be approached with a great amount of care and consideration.
Pros
Access to a complete distribution infrastructure.
New talent pools and innovative business decisions.
Potential for stronger brand identity.
Cons
Entity setup
Entity setup is not so much an expansion method in itself, but rather a means to ensure your expansion goes without a hitch. This is where an organization creates an entity—usually physical premises with a registered business—in another country. While this is a common expansion method and often successful, it does present a significant challenge, especially for first-timers.
Pros
Business continuity and security.
Access to capital and tax benefits.
Easy transfer of ownership.
Full control over the business and its employees
Cons
Large setup costs.
Tax obligations.
Long incorporation process.
Maintaining compliance and following country regulations.
Professional Employer Organization (PEO)
Managing a human resources department overseas can be challenging and time-consuming. Working with an international Professional Employer Organization (PEO) can help relieve the stress of HR's responsibilities and keep the expansion process running smoothly.
Pros
Comprehensive employee benefits
Assistance with payroll and benefits compliance.
Data security.
Improve employee experience.
Cons
Less flexibility in choosing benefits providers.
Fee structures can be costly depending on number of employees.
Loss of full control over processes and employees.
Employer of Record (EOR)
An Employer of Record (EOR) does not require entity set up and is ideal for rapid growth and helping hire and onboard overseas talent, handling payroll processes, and managing taxes at source. An EOR can also help businesses prepare for country-specific financial, legal, and cultural differences experienced during expansion.
Pros
Accelerated time speed-to-market.
Bespoke cultural knowledge and market research.
Full compliance guaranteed during expansion.
Background screening.
24/7 support.
In-country HR capabilities.
Technological advantage through real-time data and communications.
Cons
Represent an added cost to your expansion.
International growth with Global Expansion
Developing a global expansion strategy is no easy feat. It's a complex and costly process—even more so if you get it wrong or miss something vital—which makes it seem all the more daunting. The complexities of expansion, globalization, and international regulations may seem like a never-ending gordian knot, but they're not insurmountable. With the right preparation and collaboration, your business can thrive in another territory sooner than you think.

Want to learn more about our Employer of Record solutions? Speak to one of our experts today.
Related Articles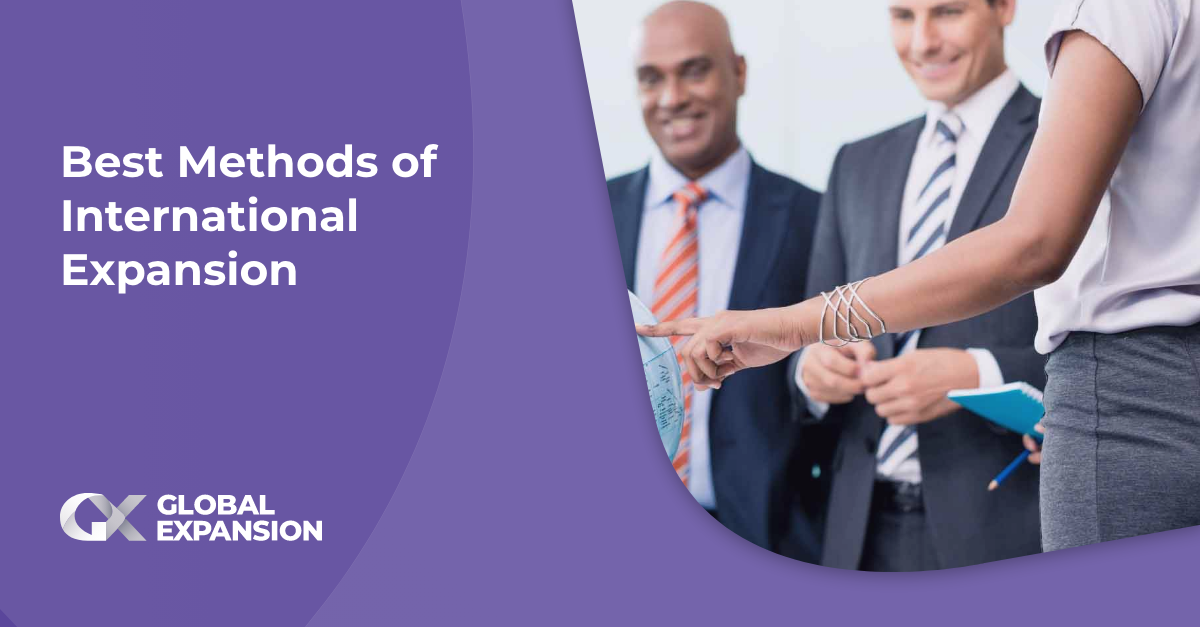 Published on August 25, 2020 , updated on March 24, 2023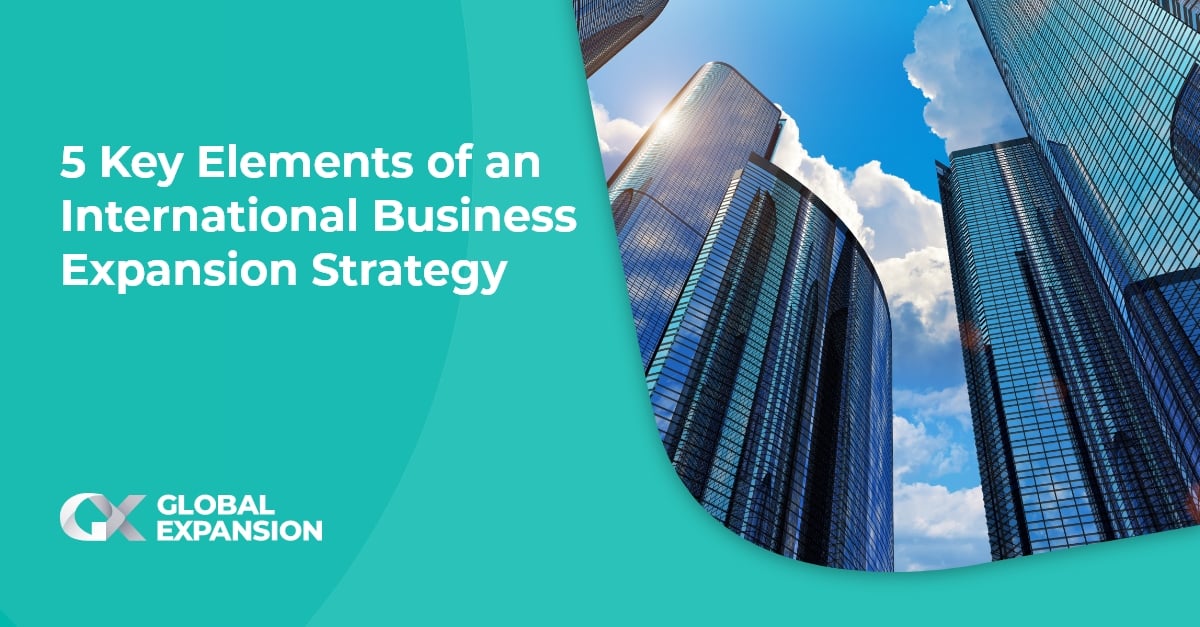 Published on August 25, 2020 , updated on March 24, 2023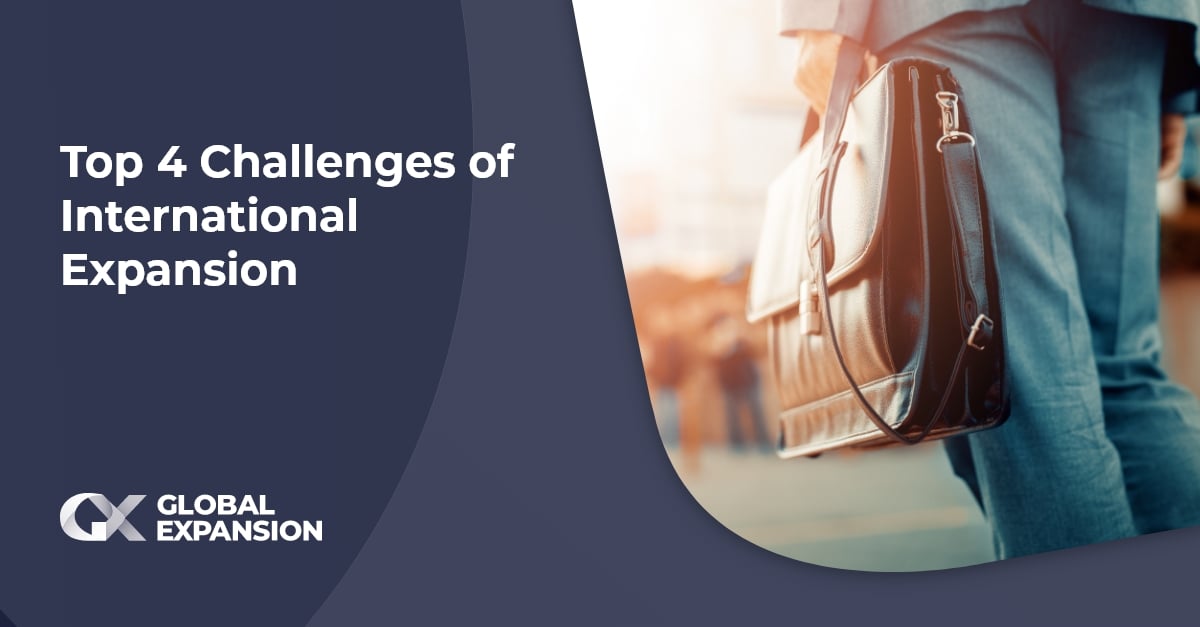 Published on August 25, 2020 , updated on March 24, 2023
Receive the latest GX blog posts and updates in your inbox.